The Sounds of My Life
Among my earliest memories is hopping in my dad's car on the way to kindergarten and hearing Led Zeppelin's "Stairway to Heaven". That's how I began my day: a different song, each one as capturing as the next.
Each morning, I would explore something new. From Floyd to Cream to Sabbath, I was on on a quest, a journey to absorb and indulge in the mellow grit of classic rock.
When I arrived to school, I eagerly grabbed my things and dashed inside to tell my art teacher what new song I'd heard. She always gave me a faintly quizzical look before laughing and recommending her own favorite rock songs. My growing taste in the genre never failed to surprise her.
The memories of that year are still vivid even now. Well, not the year itself. I can hardly remember my friends or teachers. All I recall is those mornings.
But this was not the only experience through which music embedded itself in my nostalgia.
I moved from Novi to Bloomfield Hills in the 7th grade, and my family spent hours upon hours of packing and unpacking boxes to the aggressive and rejuvenating tunes of Metallica. Every time I revisit those albums, I can't help but relive that stressful yet memorable experience. The image is a little silly, my dad and I unshelving books and souvenirs to the rapid, energetic sound of my tiny speaker.
Again, the indelible associative qualities of music followed me into high school. Freshman year was characterized by my angsty tendencies paired with the pained screams of metalcore. I look back on that time ruefully; I was supplanting the utter normalcy of my life with melodrama where I could I find it.
Before I knew it, cool jazz had inundated my listening preferences. Brubeck and Davis and Monk were all I heard, all I cared to hear. I found within the minds of these timeless visionaries an emotional maturity, a resilient spark that deeply altered the way I internalized sound itself.
Music has simultaneously compartmentalized and united those warm and memorable segments of my life, a common thread of growing up but one without a pattern. Music has transcended simply my sense of hearing. Music manifests a convivial persona in my mind with an ever shifting visage matching my own over the years.
When I listen to "Stairway to Heaven" I don't just recognize the tremendous control of Robert Plant's voice or the pentatonic madness of Jimmy Page's solos, I feel the cold leather seats of my dad's car in the winter and the lulling deceleration of pulling up to kindergarten. I am metaphysically transported; the reverie is sharp and alive. And I am thankful for this gift that music has given me.
About the Writer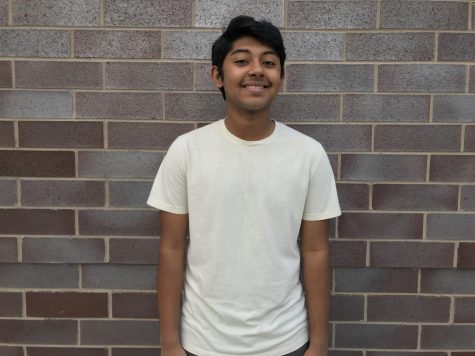 Anish Tamhaney, Editor-in-Chief
Hi, I'm Anish. I'm a senior and the co-editor-in-chief of print. I joined the Hawkeye as a junior and have learned countless valuable life skills as well...