Junior discusses second home in Boca Raton
  As the infamous winter break comes just around the corner, the common topic of where students are traveling to becomes a regularity.
  For a fair amount of people, it is somewhere exotic, and most likely out of the country. But, there are also those people who are going somewhere cool however staying inside the United States. Then, there are those who are just going to relax, staying in the Bloomfield bubble.
  Nonetheless, whenever someone asks me where I am spending my vacation, almost 99% of the time, they can just assume that I am going to Boca Raton, Florida. The reason for this is because ever since I can remember, my grandparents have had a condominium and staying with them makes for an easy, stress free, excursion.
  Although I have been there countless times, every single time my flight lands and I spot the swaying palm trees, I still feel the same amount of excitement and joy as I would for any new vacation destination.
  This is my favorite time of the year. Since I have been there numerous times, when I arrive, I feel like I have never left. My family and I go to the restaurants that we know and love and occasionally try new ones. We reconnect with our family friends and of course, spend time with my grandparents.
  Boca Raton is my second home and if I could live there full time, I would absolutely do it in a heartbeat. When I'm there, it's almost like all of my stress stays in the clouds as I am flying to my favorite place and then comes rushing back in as I return to the snowy Michigan.
  Since I am extremely familiar with the atmosphere, the airport and especially the city itself, I never feel lost or anxious. For some reason, all full time residents there tend to have a laid back, summery, fun vibe that always seems lifts my mood and gets me excited for the day ahead.
  But, the best part, by far, is knowing that I am without a doubt going to get unreal ice cream almost ever night. Since the sun is continuously beating down, ice cream is a hot commodity there and you can never get a "bad" sundae of cup of frozen yogurt.
  The shopping there is okay, definitely not like New York shopping but it's decent. I have a couple stores that I like to go to here and there but there's really nothing special.
  I become over the moon excited just thinking about how soon I'll be able to be in my favorite place on earth that I call home.
About the Writer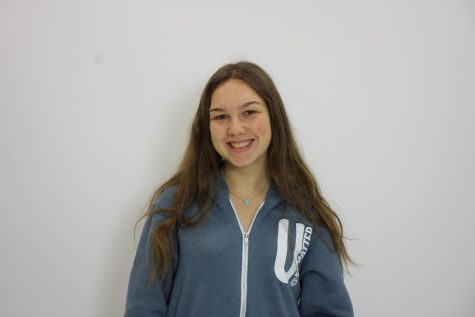 Sadie Kirschner, Promotional Manager
Hi, my name is Sadie Kirschner and I am the Promotional Manager on the Hawkeye newspaper. I am a senior this year and this also is my 4th year on staff....