Why He Doesn't Scare Me
Men like Larry Nassar often take away my ability to feel safe amid casual encounters with other males, my ability to feel safe when walking alone, my ability to wear an otherwise socially acceptable length skirt or dress without the worry of it being interpreted as "flirtatious" or "inviting".
In January of 2018, when more than 160 young athletes stepped forward to bring, USA Gymnastics and MSU Physician, Larry Nassar to justice, they also helped call even more, much needed attention to a recent topic of conversation- Sexual harassment, specifically on college campuses such as Michigan State University.
The threat of sexual assault and harassment is one of which that is all too real for myself as well as majority of most young women. From a simple stare up and down out in public coming from a stranger, to an attack at a party amongst close friends, being taken advantage of is an ongoing worry that plagues my mind with every step I take when surrounded in even a casual environment.
Millions of women face sexual harassment and assault around the U.S. Every 98 seconds, an American is sexually assaulted.
Do I feel safe at Michigan State University? No, but should young women really feel safe on any college campus?
According to CNN 23% of women are sexually assaulted throughout their time in college. While the numbers associated with the Larry Nassar case are astronomical, it's not as if the same issue can't occur on any college campus across the country. Students being sexualy assaulted by both professors and other students has been reported all across America, from Penn State to Berkeley to University of Southern California with MSU's major in-state rival, U of M, ranking number two for reported sexual assaults according to The Washington Post. The list goes on and on.
While hearing about these disputes at these top ranked schools raised my attention and scepticism about their true levels of "prestige", after some more digging I was hard pressed to find a school that did not have a problem with sexual assault.
Because it is the truth, it's easy to desensitize yourself to what young women are going through by turning this situation into a college v college showdown. The truth is, dozens of terrible humans lurk on our campuses across the nation. When it comes to sexual harassment and assault, location is ubiquitous. So rather than focusing on the environment, let's focus on the problem itself.
With 50,000 students, 12,000 employees and 600,000 proud alumni, individuals such as Larry Nassar and Lou Ann Simon are not a direct representation of Michigan State. Michigan State has always been a place that I could envision myself calling home. The outstanding education, breathtaking campus and "Big Ten" experience all add up to a more than ideal place to spend the next four years. While men like Larry Nassar may take away my ability to feel safe, I won't let them take away the pride that goes along with being a Spartan.
About the Writer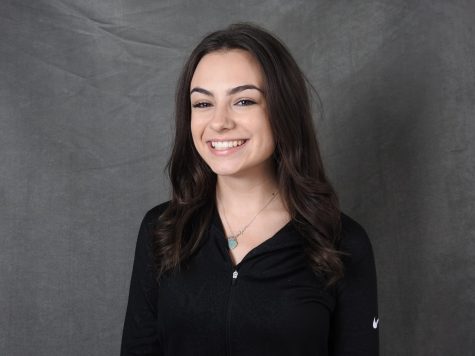 Lilly Swanson, BHS-TV News Producer
Lilly Swanson is one of the executive producers for BHS TV News and BHHS Today as well as a production manager for The Hawkeye. She has been a part of...