March Madness Impacts BHHS
68 teams. 67 games. 1 champion. Three weeks full of buzzer beaters, upsets, historic runs, and Cinderella stories. There's no better time than March Madness.
"Speaking from experience, I always love March Madness. Whenever it's that time from the week before Selection Sunday, when conference tournaments are being played, to April, when it's the Final Four, the atmosphere gets so much more exciting. It's a lot harder to focus in class because you wait a full year for these games to come on. Then when they are finally on, all you want to do is watch them," said junior Max Wittenberg. "During school, it's really cool talking with people, especially those who understand the game, about the games. You see people cheering for different teams, picking different teams in their brackets and it's really fun. Knowing that there is going to be a game on every second for four days in a row that first week is super exciting."
As Wittenberg detailed, freshman Gabe Singer also explained the beauty of constant action and college basketball being played.
"It's a lot of fun because there is always something to do. There is always something to watch. You are always are invested in every game that is going on, so I just find that a lot of fun," said Singer. "It's great because it can help you look forward to something. It is usually towards the end of the day. You are not dreading the whole day because you are looking forward to one or two PM when games begin."
BHHS teacher Matthew MacLeod, who attended Oakland University, highlighted the influence of the NCAA tournament on the smaller schools, whose goal each season is to get a bid in the tournament.
"I went to Oakland University, which is a very small school. It is not known for being a basketball powerhouse, and my senior year we actually managed to qualify for the tournament. We won the play-in game, which counts as a win and for the next three or four years my university had signs up celebrating that we had won a game in the tournament," said MacLeod. "What makes it so cool, is that in professional sports and in a lot of college sports, you kind of know who is going to win and you know who is going to go far. But with the [NCAA] tournament having 68 teams and this opportunity to just pull off one magical game, it is just really exciting for people, and it makes the atmosphere really fun. Even the kids who may not be into sports as much, they like the idea of the really cool storylines that spring up."
A significant aspect of March Madness' popularity is derived from everyone filling out their own unique bracket in hopes of defying the one in 9.2 quintillion odds of getting a perfect bracket.  
"March Madness is super exciting. I love making my brackets and betting against my mom, my dad, and my family. We all gather around and pick who we think is going to win," said junior Sloane Marwill. "It depends on the year for who I choose to win. Normally in my bracket I pick my favorite team, so I root for them. This year, I think Duke is going to win."
BHHS Teacher Andrew Mikolajczak loves tourney time because it is what he grew up with.

"I  like March Madness because it's what I grew up with. I grew up in a house with two brothers, and every single year we would always watch the tournament together on Thursday and Friday especially on the opening week because of how many games are going on," said Mikolajczak. It's always just been an excuse to get together and watch some good games and hang out with good food and good friends."
Junior and University of Michigan fanatic Kenny Eaton enjoys the March Madness and bracket-making atmosphere as much as anyone at Bloomfield Hills High School.
"It's very competitive. Everyone has a lot of fun making their brackets. We all cheer for our teams. We egg each other on. When we pick different teams, we like to be very competitive about it even though it may not be your favorite team you are rooting for," said Eaton. "If Michigan's playing, I will root for Michigan. Regardless of if my bracket is busted or not, I will always root for them first."
Similar to Eaton, Singer puts his hometown team before his bracket.  
"I put Michigan State first, and if they are out I root for my bracket. But if it's in the national Championship, and I can either win my bracket or have Michigan State win the Championship, I am picking Michigan State to win the Championship every time," said Singer.
When picking brackets, there are always those who feel over prepared and have done hours of research. BHHS Junior Will Eisenberg undoubtedly falls into this category.
"Research wise, I like to determine which teams are going to actually make it to the NCAA tournament. Before the tournament I try to watch at least one game of all of those teams and take notes based on what I see," said Eisenberg. "It's sort of an eye test I like to do before the actual bracket, so I know going in what will happen. When picking my bracket, it's a gut feeling for the upsets. I usually try to watch the most of conference finals as well. This helps me to determine which teams are truly an upset team, and which teams will get upset."
About the Writer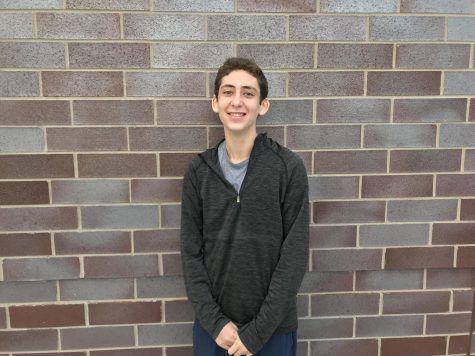 Justin Yaker, Staff Writer
My name is Justin Yaker. I am a junior and this is my second year on the Hawkeye as a staff writer. I enjoy hanging out with friends, playing and watching...