Update #1
March 15, 2018
Some call me an expert. Most call me a risk taker. Few call me names that do not need to be repeated. However, my undying knowledge of March Madness has been summoned, and for the first time in Hawkeye history I plan to share the secret to an impeccable bracket. With the help of the sports section here at the Hawkeye, the pure combination of wins and losses has been created. Behold, The Perfect Bracket.
As you can see, the Hawkeye chooses the Duke Blue Devils to cut down the nets in San Antonio. However, to get to the championship game, all 64 teams must pass their first test in the Round of 64. The Hawkeye has chosen eight upsets, four of them being more significant than the others. There's the 11 seed St. Bonaventure Bonnies taking down the 6 seed Florida Gators, the 12 seed South Dakota State Jackrabbits beating the 5 seed Ohio State Buckeyes, the 12 seed New Mexico State Aggies overthrowing the 5 seed Clemson Tigers, and finally, our most confident upset of the four, the 11 seed Loyola Ramblers defeating the 6 seed Miami Hurricanes.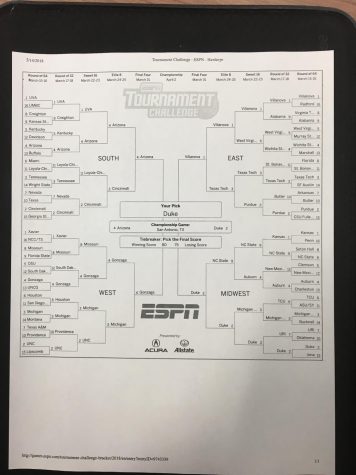 Breaking down the predicted Loyola-Miami upset, Miami has seven players averaging between 8 and 11 points, while Loyola has four sharpshooters averaging more than 10 points per game according to ESPN. Furthermore, Loyola has firepower on the defensive side of the ball as well, while Miami struggles a bit more in that area. Looking at their 12 most recent games, Miami is a scrambling 7-5, while Loyola is s surging 11-1. To top it all off, the Hurricanes lost their best all around player due to a stress fracture in January. Ultimately, Loyola keeps dancing while Miami goes packing.
At the end of the day, achieving the perfect bracket is a unimaginable feat with 147 quintillion (147,000,000,000,000,000,000) combinations, unless you are the Hawkeye who will undoubtedly complete the perfect bracket. Therefore, as brackets lock at noon, take our advice to earn a slice of our upcoming success. Good luck to all that compete, and happy March Madness to all!
Stay tuned for updates before and after each round of the tournament to stay on top of all bracket news!