On the Basis of Sex Delivers a Powerful Message
Hang on for a minute...we're trying to find some more stories you might like.
While it has been a while since I've seen a historical film, On the Basis of Sex, directed by Mimi Leder, has to be one of the best ones I've ever experienced.
This powerful film follows the story of a young Ruth Bader Ginsberg struggling to put herself through the Harvard and Columbia law schools in the early 1960s; moreover, the film follows her life balancing the duties of a wife and new mother, as well as her husband's struggles with cancer early on. Not only does Ginsberg graduate with degrees from both universities, but she also takes on the ever-changing world around her, as the shift in societal norms is clearly defined from the late 1950s to the early 1970s in the film.
Yet, even after the events of movements such as women's suffrage, Ginsberg still finds herself in a world where gender-based discrimination continued to hide behind every corner she may turn. On the Basis of Sex highlights Ginsburg's journey as a young, female lawyer to right this wrong through the cases of her career such as Moritz V. Commissioner and Reed V. Reed. In the film, Ginsberg, flawlessly portrayed by Felicity Jones, states,
"If the law differentiates on the basis of sex, then how will women and men ever become equals?"
In addition to an intriguing and impactful storyline, the release of this film is absolutely appropriate, especially in today's political climate. Not only does it call for unity between both men and women, but it pushes audiences to stand up to injustice and fight for equality. Given that a majority of the country is politically split, a message of unity from the film was refreshing to hear.
Not to mention the phenomenal cast, who did an impeccable job not only portraying their characters in themselves, but also capturing their distinctive reactions to the changing nation around them. Felicity Jones and Armie Hammer, who played Ginsberg's husband, Marty, had wonderful chemistry on screen and perfectly captured the dynamic duo that Ruth and her husband were as both lawyers and spouses. Justin Theroux's performance as Mel Wulf, director of the ACLU at the time, was not as riveting as the latter, yet added some much-needed humor to a very heavy film.
The film's music score and cinematography were of very high quality, blending well with the plot and the performances. Each scene, brightly colored and clearly set in the right time period, drew my eyes to the screen, allowing me to follow every step of Ginsberg's inspiring story.
As a woman growing up in arguably similar times as Ginsberg in terms of disunity and political turmoil, it was impactful to see someone like Ginsburg willing to stand up and make a change when everyone was telling her no. The film not only reassured me that there are still good movies out there that aren't action or adventure films, but also, and more importantly, that there have been and always will be generations of people inspired to make a change. But it is up to people like us to keep the need for change alive. 5 out of 5 stars for On the Basis of Sex.
About the Contributors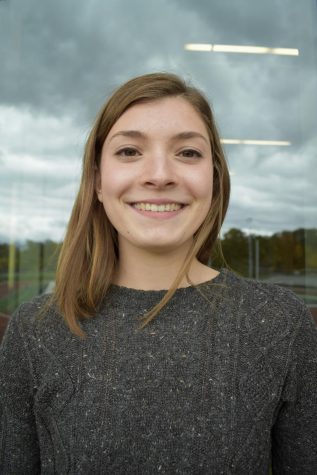 Lara Janosz, Editor-in-Chief
Hi, my name is Lara Janosz and I am Editor-in-chief on the Hawkeye Newspaper. I am a senior this year and this is my 4 year on staff. Outside of the Hawkeye,...