Shouldn't it be called Short Friends and Family?
Recently released on Netflix, the movie Tall Girl not only is uncomfortably awkward, but it is an illusion of what it means to be tall.
Jodi Kreyman, played by Ava Michelle, is 16 years old and the tallest girl in school at 6'1". All of her peers make fun of her and she feels like she'll never find the perfect boyfriend. Even her sidekick Jack Dunkleman (Griffin Gluck), who is madly in love with her, can't convince her otherwise. However, when exchange student Stig Mohlin (Luke Eisner) comes to her school, she starts to feel optimistic.
As more characters like Jodi's parents, best friend, and sister come in, I started to notice a pattern. All of these supporting characters range from just 5'0" to 5'7", so of course Jodi sticks out like a sore thumb. This is a casting trick that, as a viewer, makes me wonder what else the movie is lying about.
In addition to Jodi's overexaggerated height, this movie has many other troublesome qualities. There is no substance to it; all of the messages it's trying to get at are brushed over with a cheesy line or two. The worst part is the very anti-climatic finale of the movie in which Jodi, out of the blue, gives a speech in front of the whole school about coming to accept herself for her height and who she is. The speech would have been more effective at portraying the theme of acceptance if Jodi was distinguishable because of her race or religion, for example. This would have provided a better social context for the movie.
Another theme in Tall Girl is romance, but even this one has nothing to support it. It was impossible for me to like any one of Jodi's potential suitors, as one was incredibly annoying and the other was secretly a jerk. The movie is also in no man's land in terms of intended audience, somewhere in the middle of a Disney Channel Original to Mean Girls spectrum.
Either way, it doesn't matter who the target audience is. Nobody should see Tall Girl. What could have been a heart-felt movie ended up being a cringeworthy love story built on a  deception of height and reality.
About the Writer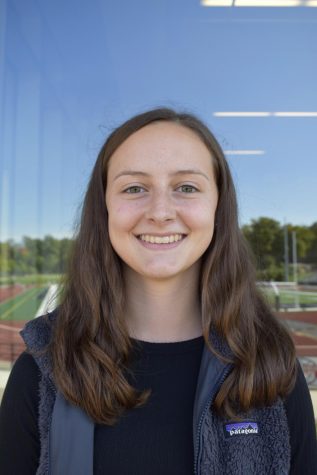 Izzi Harber, Copy Editor
Hi, my name is Izzi and I am the Copy Editor on The Hawkeye. I am a senior this year and this is also my second year on staff. Outside of The Hawkeye,...