Postmates Service now Available in Birmingham
The online delivery and pickup service for food, groceries, and more, known as Postmates, has extended their services to Birmingham, Michigan. Although the company does not have an official building in the city, they function much like corporations similar to Uber and revolve primarily around their website and app.
Servicing over 200 cities across the United States, Postmates is now able to deliver to millions of people.
If you reside within one of the cities Postmates services, a worker, or a "Postmate," will place your order and bring it right to your doorstep.  There is also a Postmates app that allows you to track the location of the Postmate as well as pay for the purchase including convenience and delivery charges and a tip.  For purchases without delivery and convenience charges, you can purchase the unlimited package for a set monthly price.
If you do not live in one of the cities Postmates delivers to, they can place your order, for no charge, so you do not have to call or wait on hold, though you must pick up the purchase from the place it was ordered.

Many people are excited about Postmates since it now has a location close to their community.
Sophomore Julia Jankowski, believes that Postmates would provide her with a change of cuisine from leftovers on Friday nights. "I would use Postmates on Friday nights because on Friday night, I usually eat whatever is in my kitchen, and Postmates would allow me to eat various types of foods," said Jankowski. "I would order more food from restaurants that don't deliver, like Shake Shack or Cafe Succo."
Heather Frye, a French and English teacher, feels she would also use Postmates, although for different reasons.  
"One, I can't stand grocery shopping, and two, I'd rather spend that half an hour or forty-five minutes doing something else.  The other thing is I have two dogs and I really don't like having to haul around a big bag of dog food, so if someone else could do that, that would make my day," Frye said.
However, senior Braden Crimmins disagrees with Jankowski claiming that it "would make [trying new things] a bit difficult to do."
"I don't think I would use Postmates, because one of the things I like doing is trying new things. I don't like to always try the same thing over and over, [because] I get sick of stuff really easily, so going to the store is a good way to [try new things by seeing] the other options available on the shelves," said Crimmins.
Depending on your interests and time constraints, Postmates may be the app for you. From late nights to early mornings and everything in between, Postmates' easy and efficient delivery system could be a useful addition to your busy day.
To take a tour of some popular places Postmates can deliver from, click here.
Leave a Comment
About the Contributor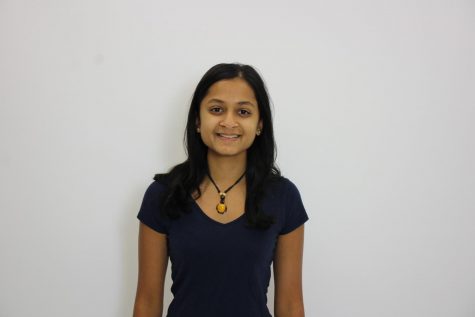 Natasha Mehta, Staff Writer
Hi, my name is Natasha Mehta and I am a Staff Writer on the Hawkeye newspaper. I am a sophomore and this is my 1st year on staff. Outside of the Hawkeye,...