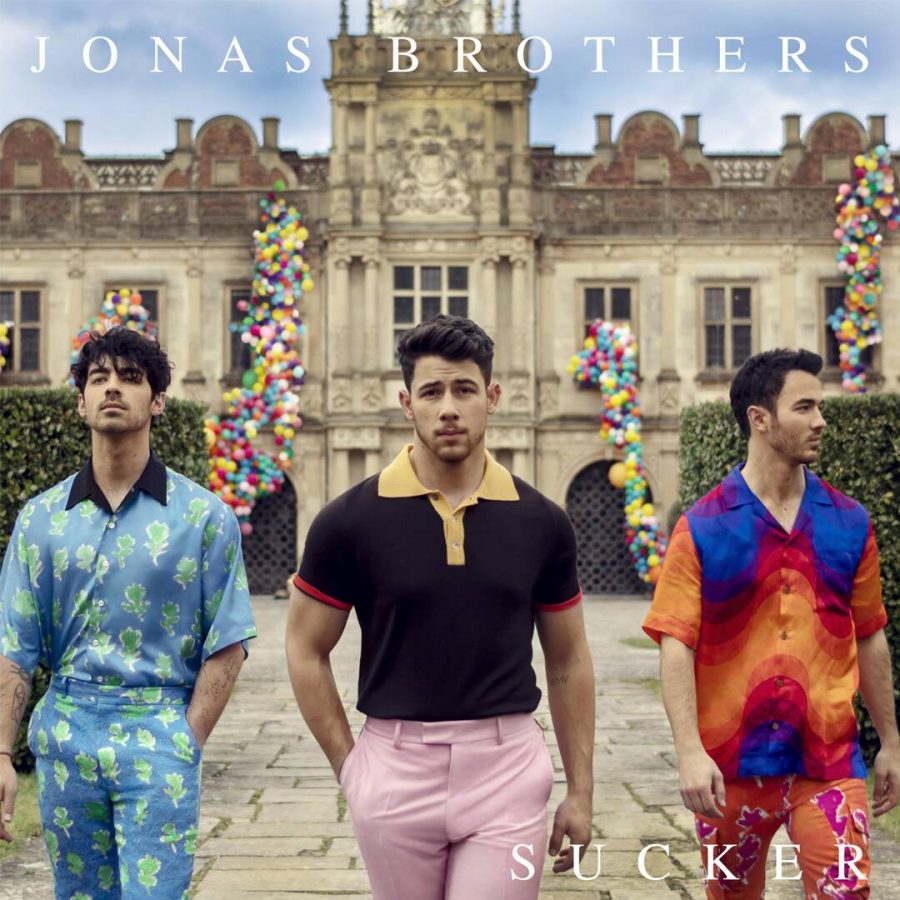 E News
I'm definitely a "Sucker" for the Jonas Brothers. Hearing that they were releasing a song together – for the first time in 6 years – made me feel nostalgic for their music video release days from the golden days of Disney Channel. I was ecstatic to hear what they would sound like back together again, after years not singing together. While the band is finally back together, they have made a drastic transformation in their look. No, it's not just because they are adults now, but rather their change in the style of their music and artwork covers.
After the Jonas Brothers split in October of 2013, in order to save their relationship as brothers and end their bad blood as bandmates, they went their separate ways. Nick found success as a solo artist, Joe starred in the band DNCE, and Kevin has been busy raising two children. They decided to form the band again after participating in therapy to rebuild their brotherly bond and connection together with music. Through their comeback, it is evident that Nick has brought his individualistic approach from his solo career to one of the biggest music reunions in years.
To revive the boy band, the Jonas Brothers chose to leave their heartbroken sad songs behind and go for a more fun tune. Their first song, "Sucker," is a great bop to jam out to in the car, with its catchy melody and upbeat feeling. I love to listen to this song on my drive to school at 7 am to wake me up. Their cover art for this hit song shows Nick Jonas standing in the direct center having a stare down with the camera. Standing a foot behind him are his two older brothers looking off into the distance as supporting roles to Nick. Although having one brother stand in the center isn't new, it seems like it was a purposeful choice to draw attention to Nick. By taking Joe's old spot of center position, he claims his brother's former role as the stand out of the band, the supposed heartthrob, and the best singer.
In their song "Cool," Nick once again has lead vocals and is the main focus of the music video. This shift is most likely due to his rapid rise in popularity. With 22.9 million followers on Instagram, he is more popular than his brothers who only have a following of 9.7 and 3.9 million. The tone of the song is plain cool; the lyrics aren't deep, and it is just a feel good song.
What's not cool about the music video is the lack of Kevin Jonas. The video does an adequate job at showcasing two brothers, but not all three. Nick has the spotlight, Joe is like his backup, and Kevin is there just for show. Kevin should be thankful that the music video fails to highlight him as a standout singer as it is cringey and awkward. It comes to the point that the Brothers are trying so hard to be cool that it is uncool.
Even though I am delighted with the return of the Jonas Brothers, I am disappointed that their music, videos, and artwork covers fail to highlight all three brothers. Where is the brotherly love? To me, it feels like Nick Jonas and his Brothers, not the Jonas Brothers. I would rate their new songs a 4 out of 5.