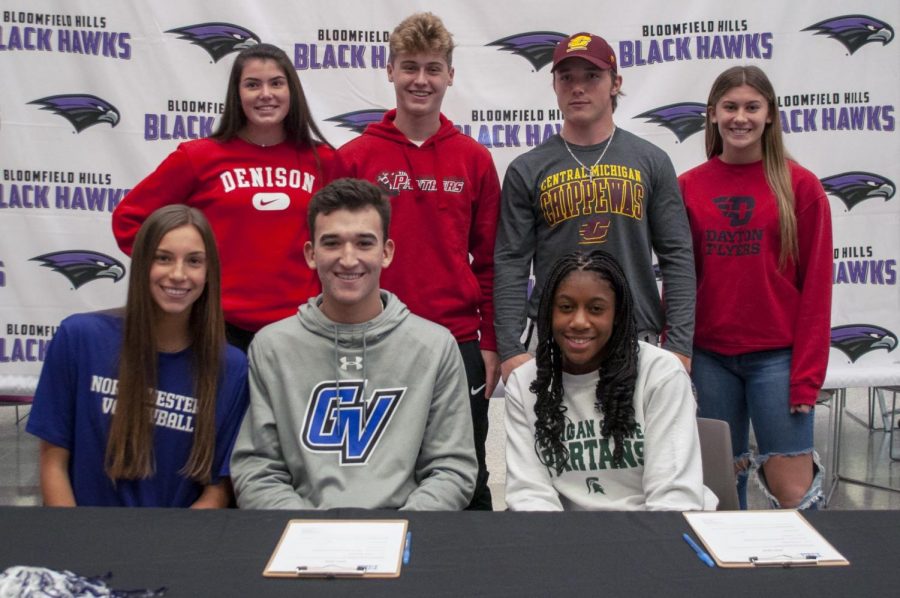 Georgia Zimmerman
For a handful of BHHS students, high school will not be the final stop in their athletic careers. On November 13, seven Black Hawks signed their NCAA National Letters of Intent to play college sports next fall. 
"Signing Day has been a tradition since 2013, when BHHS opened," said secretary of athletics Jackie Osborn. "You can stop in to the trainer's room and see the Wall of Athletes, which each athlete also signs on signing day [to leave] their stamp for us to be inspired by." 
Osborn coordinated the signing day event along with athletic director Avis Najor. 
"Planning the event includes gathering together the students that have already committed to college-level play and inviting their friends, family, teammates and coaches together for a recognition celebration," said Osborn. "The number of D1 and D2 players we are putting out there stood out from this year's event."
Alec Ward committed to Central Michigan University to play Division 1 football. Ward put up high numbers as a receiver this season for the Black Hawks and looks to continue playing receiver for the Chippewa's football program for years to come.
Naomi German is a level 10 gymnast at Olympia Gymnastics Academy who has been practicing her craft for the past 11 years. She qualified for the Junior Olympics in 2018 and will be continuing her academic and athletic career at Michigan State University as a member of their gymnastics team.
Soccer commit Gabby Tremonti will be joining the University of Dayton's girls soccer team. Tremonti has been playing since she was four years old and competed at the highest levels of youth soccer with clubs like Vardar and the Michigan Hawks. Tremonti will be graduating early this December and joining the Flyers for school and soccer shortly after.
BHHS is sending two baseball players to the collegiate level for the 2020 season. Dominick Cowdrey has been the starting centerfielder for the BHHS baseball team for the past three seasons and received All-District and All-League nominations. After his last year of high school baseball as a captain, Cowdrey is off to Davenport University to continue school and baseball. Conner McCormack is also a three-year varsity baseball player who commited to Grand Valley State University. McCormack earned All-District honors as a junior and captains the College Connect travel team during the summer. 
Two athletes from the BHHS volleyball team will be extending their careers in college as well. Brooke Bosart is a three-year varsity volleyball player. She signed to continue playing volleyball at Denison University in Granville, Ohio. Senior Alexa Rousseau has been a BHHS student and athlete for her entire high school career. After four years of varsity volleyball, Rousseau is headed to Evanston, Illinois to play volleyball for the Northwestern Wildcats in the Big 10. 
"My favorite part about signing day was celebrating something so special to me that I've worked so hard for with my closest friends, family, and peers," Rousseau said. "After I signed that paper, I felt like a weight was lifted off my shoulders. It validated my future and made me feel so relieved. The short time after signing felt so surreal and was one of the happiest moments of my life. I had never felt more appreciated and celebrated before."