Josh Halprin's Mock Draft 2.0
With the NFL draft just a few days away, I wanted to create a mock draft to show what teams could select what players. I will be playing General Manager for each NFL team as I select players that could turn a team into a contender, keep a team in the hunt for a ring, or set a franchise back 10 years. And with that, the Jacksonville Jaguars are on the clock…
1.Jacksonville Jaguars – OT Evan Neal (Alabama)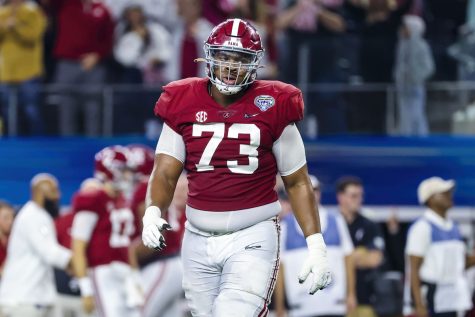 There are some amazing options for the two-time worst team in the nation to take at pick one. But instead of taking a highly touted defensive lineman, the Jags select Evan Neal out of Alabama. Neal is not the best player in this draft, but he is the best player for the Jacksonville Jaguars franchise. Rookie quarterback Trevor Lawrence was absolutely pummeled by opposing teams last year. The number one thing Jacksonville can do for their quarterback's development is give him some time to throw the football. Neal, Standing at 6 foot 7 and weighing 350 pounds, allows Lawrence a few more seconds to get the ball out of his hands.
2. Detroit Lions – DE Aidan Hutchinson (Michigan)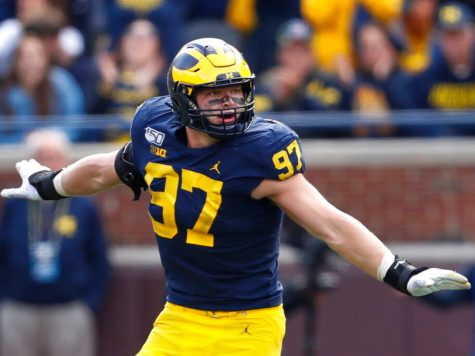 Hutchinson is the best player in this draft. He may not possess the physical skills and athleticism that Thibodeaux or Hamilton have, but has shown the most ability to develop of any prospect in this draft. I feel like a lot of people forget the season that Aiden had due to a disappointing blowout and a poor performance against the eventual national champions. Hutchinson mounted 14 sacks last season (breaking the single sack record at Michigan) and stripped the ball twice from the grasp of the opposing offenses. The Lions need a big playmaker on defense. Hutchinson allows the Lions to get pressure off the line and force opposing quarterbacks to make mistakes.
3. Houston Texans – CB Derek Stingley Jr. (LSU)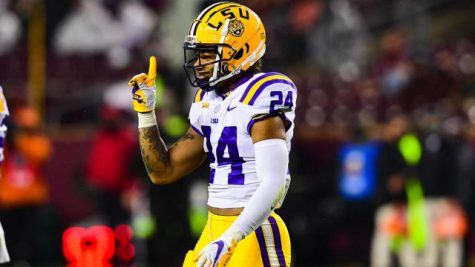 Stingley is the definition of a shutdown corner. Although he was sadly injured at the beginning of the 2021 season, he has still displayed enough skill and coachability to be dominant at the next level. His freshman year, opposing quarterbacks would not dare throw the ball near him as he accumulated 6 picks throughout the season. The Texans need players to build around on both offense and defense, so they use their first first-round pick in 3 years to take a guy that can be on their team for the next decade. 
4. New York Jets – OT Ikem Ekwonu (NC State)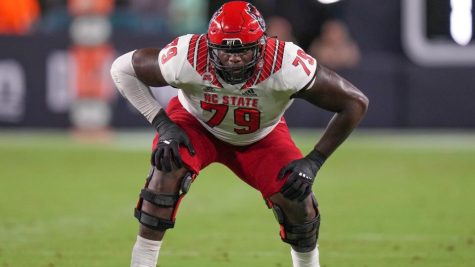 With the Jet's first of 2 picks in the first round of this draft, they take more offensive line help. Just like Lawrence, rookie quarterback Zach Wilson looks to be in systematic trouble after his first year under center. That is exactly why the Jets move to bolster their offensive line. Ekwonu has shot up draft boards and adds to an already young and talented Jets offensive line that could dominate the league for years to come. Ikem (nicknamed Ickey) plays with a nasty and ferocious tenacity, plowing through any defender standing in his path. His playstyle will open up running lanes for whoever ends up playing running back for the Jets next season.
5. New York Giants – DE Kayvon Thibodeaux (Oregon)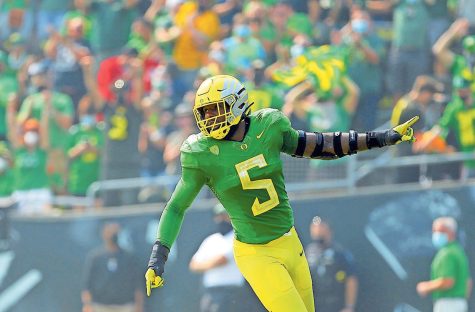 And his slip ends! The Giants pick up the formally projected number 1 overall player in the draft as he falls to them here at pick 5. After monstrous freshman and sophomore seasons, expectations were high for Thibodeaux to break records at Oregon as well as throughout the NCAA. However, his 2021 was struck with injury and underwhelming stat lines game after game putting up only 2 multi-sack games. Don't let his underwhelming junior year steer you away from forgetting how dominant his play is. I had Kayvon as my first overall, can't miss, player in my first mock draft. His speed off the edge is something I feel will translate well to the next level and help the Giants get more than 34 sacks on opposing quarterbacks.
6. Carolina Panthers – OL Charles Cross (Mississippi State)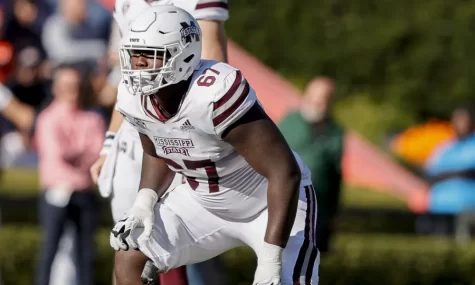 Cross has been a late riser in this year's draft, but his footwork at left tackle will translate well to the next level. Mississippi State was just above 500 this year at a record of 7-6, and Cross is a huge part of why the Bulldogs had more wins than losses this year. His ability to keep the quarterback up for a few more moments showed this year as he was the only notable player on a sub-par offensive line. His ferocious run and pass blocking will hopefully help CMC complete a season and keep whoever is under center next year for the Panthers clean.
7. New York Giants (From Chicago Bears) – IOL Tyler Linderbaum (Iowa)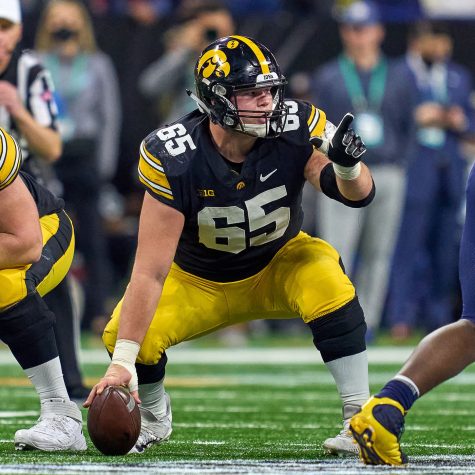 Tyler is yet another product from the offensive line powerhouse, the Iowa Hawkeyes. The Giants take him here because he is the best center prospect I've seen in a while. The way I like to describe his game is "grab and drive". He will latch onto a defensive lineman and drive them to wherever he wants you to go. Opening up holes for Saquan Barkley (or whoever the running back is after Saquan breaks fantasy players' hearts and gets hurt in week 4) should be no problem. The Giants need to establish an offense that can move the football, and Linderbaum's presence up front should help Daniel Jones finally find his footing. 
8. Atlanta Falcons – S Kyle Hamilton (Notre Dame)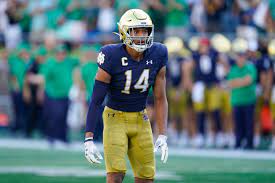 Just like that, the Falcons have created the next legion of boom. Hamilton will fit right in and add to an already established secondary. His play at Notre Dame has catapulted him into the first overall pick conversation as well as being a top 10 pick. Hamilton has snagged a total of 8 picks in his 3-year college career, as well as a defensive touchdown. Atlanta has a lot of areas that they need to address before once again being super bowl contenders, but the best course of action for their team in my opinion is to build a defense no one can score on now and let Cordarrelle Patterson carry your offense until you can do better than Matt Ryan under center.
9. Seattle Seahawks (From Denver Broncos) – DE Trayvon Walker (Georgia)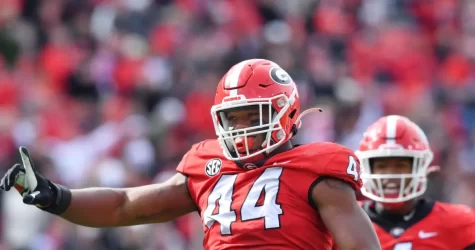 The Seahawks have no defensive line presence and I challenge anyone reading this to name one player on their defensive line; if you are unable to, you prove my point. In order for the Seattle defense to be as dominant as it was 10 years ago, they need a big defensive presence up front. Walker stands at 6 foot 5 and was a member of the most dominant defensive line in the NCAA this season. Walker's size and 4.51 speed will translate well to the Seattle defense as they look to begin their rebuild in the post Russ era.
10. New York Jets (from Seattle Seahawks) – DE Jermaine Johnson (Florida State)
The Jets elect to go defense with their second pick in the first round because opposing quarterbacks had days to throw. The Jets ranked 25th in sacks last season, and if they want to pick outside the top 10, for what feels like the 10th year in a row, they need to establish pressure on their opponent's offense. Johnson led the ACC this year in total sacks. He has a great technique to win off the line and get to whoever may be holding the football. He will be a great player for the Jets as they hope to be better next season.
11. Washington Commanders – WR Jameson Williams (Alabama)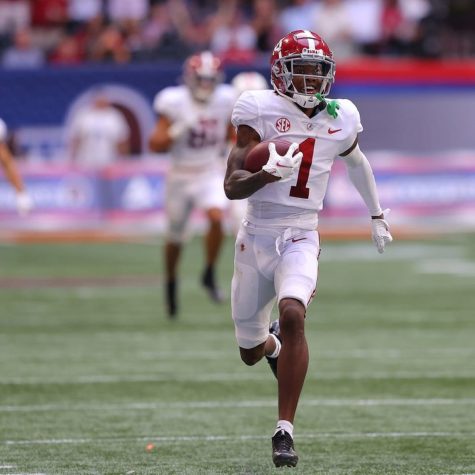 With the addition of Carson Wentz, the Commanders (terrible name choice) are out of the quarterback market. They have a very talented young defensive core with pass rushers Montez Sweat and Chase Young, but lack offensive explosion and have only one legit weapon for Wentz in Terry McLauren, who will be double-teamed on every down if they don't get another receiving threat. That is why I have them taking the speedy deep threat out of the wide receiver pipeline of Alabama. It's hard to believe this guy couldn't crack the starting roster at Ohio State. Williams totaled 79 receptions, almost 1600 yards receiving, and 15 touchdown catches. His outstanding single season for the Crimson Tide made him a finalist for the Biletnikoff Award (awarded to the best receiver in the NCAA) and helped his team make it all the way to the Championship game. Though he tore his ACL, he won't skip a beat on an NFL team and will hopefully make a case for Wentz to stay on a team for more than 3 seasons.
12. Minnesota Vikings – CB Sauce Gardner (Cincinnati)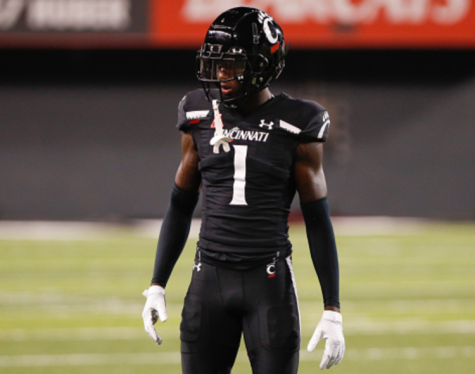 Sauce is seen by many as the best defensive back in this draft, however, I have him slipping due to the lack of competition he played in college. The Bearcats saw their secondary fold to Bryce Young and the Crimson Tide, and Sauce just has not faced the same type of competition that Hamilton and Stingley have in their college careers. However, Sauce is still an elite defender and a big corner standing at 6 foot 3. Gardner had 3 interceptions this year and was a dangerous Blitzer, having 3 sacks and 1 forced fumble. He is going to be on the same team as Patrick Peterson who I hope will take Sauce under his wing and turn him into a dominant pass defender for the Vikings to take some pressure off of Dalvin Cook's back. Because the world knows Kirk Cousins won't be able to get the ball to his elite receivers.
13. Houston Texans (From Cleveland Browns) – Matt Corral (Ole Miss)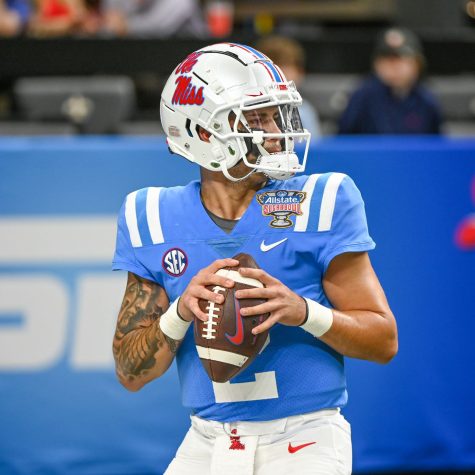 The Texans decided to move on from their former first-round selection this off-season, Deshawn Watson, in order to acquire this pick. I have them immediately replacing Watson and selecting Matt Corral with this pick. The Texans are known for reaching on a guy that they think will change their team for the better, and don't shy away from a guy I believe could be the best quarterback in the draft. Injury has caused Corral to slip in most mocks, but I believe that he won't miss a step after coming back from injury and will be able to torch opposing defenses through the air and on the ground. Corral had a total of 31 touchdown passes this season, a third of those were on the ground. He had almost 4,000 yards of total offense this season alone. He adds an element of next-gen explosion at the quarterback position that the Texans desperately need having no offensive line.
14. Baltimore Ravens – CB Andrew Booth Jr. (Clemson)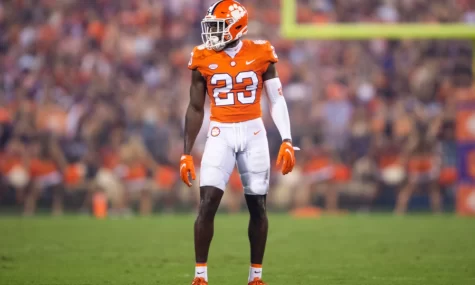 Andrew Booth Jr. has fallen off the radar on some mocks I have been seeing and I have no idea why. The former 5-star prospect has done nothing but impresses at Clemson. He has a great ability to find the ball carrier in open space, quickly close, and make the open field tackle. The Ravens have Marlon Humphery, but their lack of other defensive back options was clear last year with him sustaining a season-ending injury. Booth has shown improvement from season to season and should be a solid partner for Humphery in the Baltimore backfield.
15. Philadelphia Eagles (From Miami Dolphins) – CB Trent McDuffie (Washington)
The Eagles quickly feel the presence of Jameson Williams and act quickly to get more defensive help. McDuffie was probably the only bright spot on an under-performing Washington football team. His 4.44 40 time and solid freshman and junior years prove that he is a speedy corner that will pair well in any NFL secondary. I also believe that Philadelphia is the perfect landing spot for him, which is why they take him with their first of three first-round picks. There is no better corner for McDuffie to learn from and pair with than Darious Slay Jr. They are very similar in size and Slay should be able to help McDuffie transition to a starting-caliber NFL cornerback. Trent will need to work on his anticipation and ability to lock down bigger receivers, but should be fine because he is playing in the NFC East and there are maybe 5 notable wideouts in that division, he is on a team with one of them.
16. New Orleans Saints (From Indianapolis Colts/Philadelphia Eagles) – QB Kenny Pickett (Pittsburgh)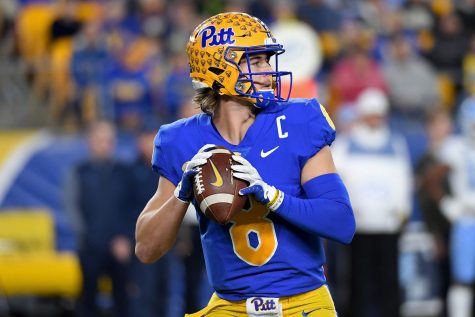 New Orleans should be well aware that Jameis Winston and Taysom Hill are not the answer for the future of their franchise. They select Pittsburgh QB Kenny Pickett and don't look back. Pickett will be able to sit back for a few weeks and learn the offense, then slide under center around the mid-season mark and pick up right where he left off in college, where he finished among the top quarterbacks in CFB having 4,300 yards and 42 touchdowns throwing this season. The 2022 Heisman finalist will fit right into a system that should allow him to throw in the backfield and not rely on his legs too much. I see Pickett being a Justin Herbert type of quarterback where he can make big plays with his arm and scramble downfield when he needs to. I expect Pickett and new head coach, Dennis Allen, to be able to lead the Saints to the wildcard this year, maybe farther if they don't need to play the Vikings.
17. Los Angeles Chargers – OT Trevor Penning (Northern Iowa)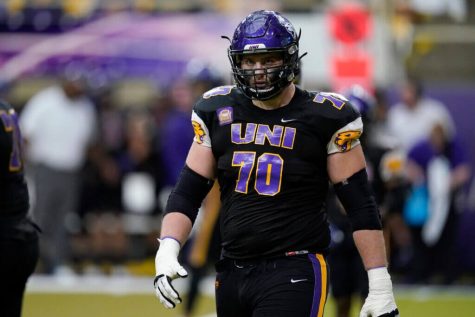 The Chargers hit last year on their first-round pick, Rashawn Slater, and give Justin Herbert even more protection with this year's first. Penning has been a late riser in this year's draft. The scariest thing about Penning is that he is 6 foot 7, weighs 330 pounds, and runs a sub 5 second 40. His size and speed allow him to be a game-changer. He is very flexible and quick on his feet and will be able to help out the chargers win in overtime this year.
18. Philadelphia Eagles (From New Orleans Saints) – OL Bernhard Raimann (Central Michigan)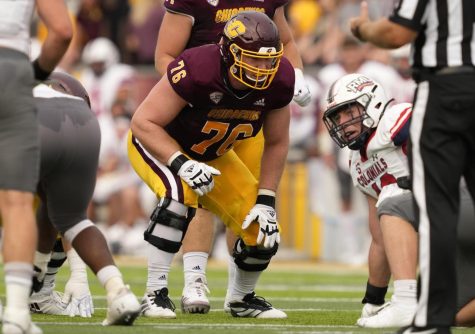 With their second pick in a row, the Eagles switch their attention from defense to offense and select Bernhard Raimann. Raimann started his football journey playing overseas in Austria and moved to the United States later. His late start in the sport has not slowed him down, however. At the draft combine, he was able to bench a weight of 225 pounds 30 times, being 1 of 4 offensive linemen to do so. Jalen Hurts needs to break out this year if he wants to keep his starting job in the NFL, he has pieces around him, but a lack of protection up front. Raimann is a big body, standing at 6 foot 7 and weighing just over 300 pounds, that will be able to give Hurts time to throw to Devonta Smith, because throwing the ball to anyone else is a certified drop. Who else would he throw it to? Jalen Reagor? Zach Pascal?! J.J. Arcega-Whiteside?!
19. New Orleans Saints (From Philadelphia Eagles) – WR Chris Olave (Ohio State)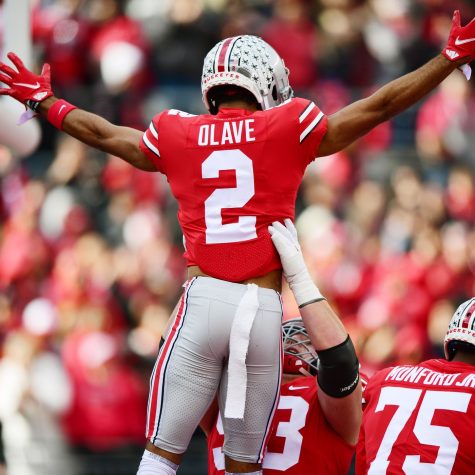 The first Ohio State receiver is now off the board. Let me ask you a few questions. What do you do when you are a team that has one reliable receiver that only runs one route? What is one of the best things you can do for a brand new quarterback? The answer is to get someone else to throw to. That is exactly why I have the Saints picking up the most well rounded receiver in this year's draft. After staying for his senior season, Olave should be a no doubt first rounder. I love pairing him with Pickett's arm talent, and think that we could see Olave have the same type of season that he had with Justin Fields two years ago. Olave is not just a great pass catcher, but he is also great at getting open to catch a pass. His hands are a huge plus, but being able to swerve and thread through a defense the way he did at Ohio State is just special. His balance makes him a monster on the sideline and his 4.39 40 speed makes him tough to cover. He fits right into a team that could use another elite Ohio State wide receiver and Pickett welcomes his new teammate with open arms. These two together could terrorize the NFC for years to come.
20. Pittsburgh Steelers – QB Malik Willis (Liberty)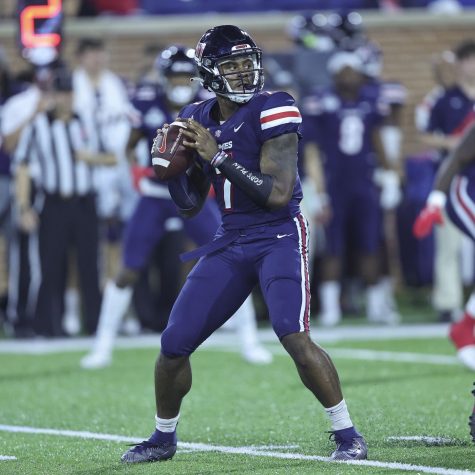 Now, I know what you're thinking. Why on earth are the Steelers taking a quarterback? Steelers fans, you know Money Mitch is not a QB1. The former NVP is on his third team since being drafted second overall in 2017. The Steelers need a legit QB who can be mobile enough to avoid pressure and can throw the ball deep. That is why they take Liberty quarterback Malik Willis with their first round pick. Playing at Liberty, he was able to put on an electric season both through the air and on the ground. His ability to extend the play will play a vital role in the Steelers offense and allow them to continue to ignore their need for offensive linemen. Willis, this season, had 27 touchdowns through the air and 878 yards on the ground. The Steelers snag a homerun threat on every play with this pick as the post Big Ben era begins. If he can learn when a play is dead and not force things to happen, he will be a cornerstone in Mike Tomlin's offense just like Rothlesburger was.
21. New England Patriots – LB Nakobe Dean (Georgia)
Todd Kirkland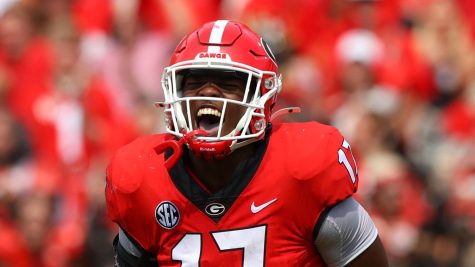 The Patriots are not Super Bowl contenders anymore. As the post Tom Brady in New England era continues, they need to look for playmakers on both sides of the ball. New England gets a star in the making if they choose to stay put in the draft and not trade down. Dean is one of my favorite defensive prospects in a while. He has sideline to sideline speed that makes him a nightmare to run against. He is also able to stay in the middle of the field, read the quarterback, and make a great break on the ball for a big play. New England lacked one thing last year, big play ability. Dean allows the Patriots to have a big stop on every drive. He can also come off the blitz. He is a do it all linebacker that I'm sure will be loved playing for one of the winningest NFL teams in recent history.
22. Green Bay Packers (From Las Vegas Raiders) – DT Jordan Davis (Georgia)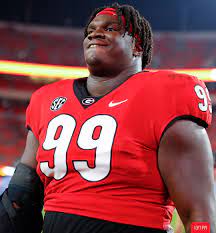 What's better than one outstanding defensive tackle? That's right! Two outstanding defensive tackles! Jordan Davis was the heart and sole of the elite Georgia defense this year. The most interesting thing about him is his size to speed ratio, he is 6 foot 6, weighs 341 pounds, and runs a 4.78 40 yard dash. Because of his size, he gets tired quickly and can only stay in for a few plays, this is something he will need to work on at the next level. The Packers already have Kenny Clark, but if I'm in this position I'm adding some additional help to my already good defensive line. Clark and Davis can form a 1-2 punch in Green Bay, making it even harder for Swift, Cook, and Montgomory to run. In true Packers form, they pass on a wide receiver and take someone who can make their defense way better.
23. Arizona Cardinals – RB Kenneth Walker III (Michigan State)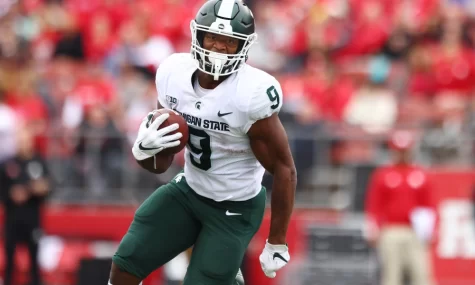 This pick may shock a lot of fans across the country, but I think K9 could be exactly what the Cardinals need to dominate this year. Walker pairs perfectly with James Connor. Picking him up here allows Connor to be a read-zone back as well as a third down back and Kenneth Walker to be a home run threat. Scouts are skeptical about Walker because of his size at only 5 foot 9, but he can run a sub 4.40 40 yard dash and his vision has me in shock. There is one thing coaches can't teach a running back: anticipation. Kenneth Walker is able to find a gap in the offensive line and burst through it. The NFL can help him to get stronger and break more tackles, but his vision is comparable to Alvin Kamara's. They are both able to read blocks and find a way to extend a play for more yards. Someone call airport security, the Cardinals are going to be a problem in the NFC west with all the weapons they possess.
24. Dallas Cowboys – S Daxton Hill (Michigan)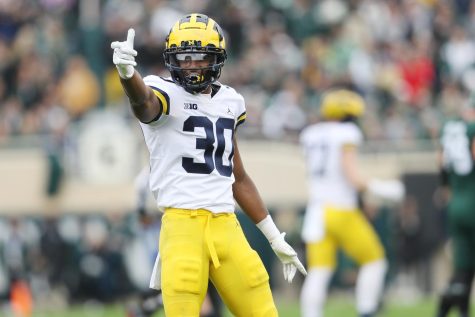 Daxton Hill was the unsung hero of the Michigan defense this year. The defense was highlighted by star pass rushers Aiden Hutchinson and David Ojabo (who I have falling out of the first round due to injury and not lack of talent), but Hill silently collected 2 interceptions and 8 knocked down passes. Hill was also able to apply some quarterback pressure himself. He will add an element to the Cowboys defense that they have been desperate for: a second defensive back who knows how to play football. Hill will pair up amazingly with Diggs and hopefully stop the ball from being thrown on them as much. The Cowboys have the 2021 DROY, Parsons, and now they have another top tier defender to add to an already solid defense.
25. Buffalo Bills – DT Devonte Wyatt (Georgia)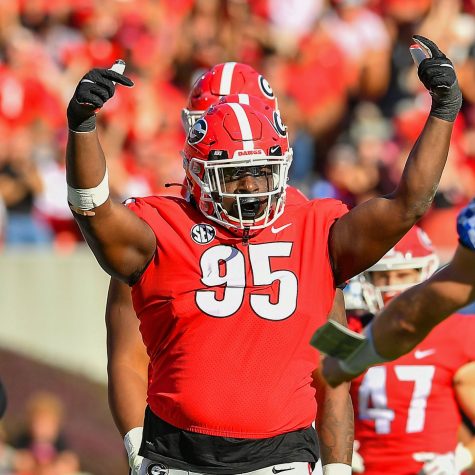 The Bills may have other needs, but Wyatt slipping to pick 25 means that they can make the number one defense in the country even better. One thing that Wyatt has shown throughout his college career is consistent progression from season to season. He was able to progress from a community college player to a star on the star studded Georgia defense from this past year. He stands at 6 foot 3 and over 300 pounds with a sub 4.8 40 yard dash. His coachability, speed, and size should have NFL scouts drooling over the idea of him rushing opposing offenses. He is great on defending both the run and pass, totaling 2.5 sacks last year, 2 forced fumbles, and 39 total tackles. He will allow Ed Oliver to get even more pressure because now opposing offensive lines will have to worry about two pass rushers up the middle on every snap.
26. Tennessee Titans – LB Devin Lloyd (Utah)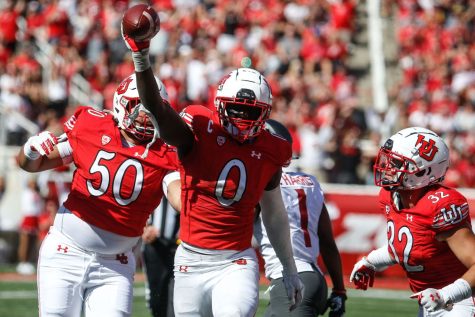 Devin Lloyd has been kind of a late riser, but was a key contributor to Utah winning the PAC 12 this year. He is 6 foot 3 and 235 pounds. He was able to get 4 interceptions, 8 sacks, and 1 forced fumble, being a true X-factor on the Utah defense. What really blows me away about Lloyd is his 111 total tackles this season. He is the definition of shutdown and will be a big addition to the Titans defense. The pairing of him and Harold Landry is going to destroy any momentum an AFC South team creates and cause headaches for opposing offensive coordinators.
27. Tampa Bay Buccaneers – WR Garrett Wilson (Ohio State)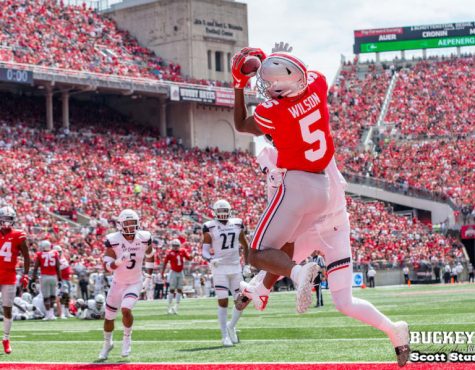 Garrett Wilson unexpectedly falls out of the top 25, and in true Tom Brady fashion, he gets maybe the best receiver in the draft. Wilson is talked about as one of the best route runners in the draft. He may be only 6 feet tall, but plays like he is a half a foot taller. He has elite "go up and get it" ability that TB12 will utilize after coming out of retirement. Wilson could be the missing piece that Tampa Bay needed to get past the Rams last year, so they select a speedy, versatile, big play wide receiver now. Hopefully Wilson's 1,000+ yard season with 12 touchdowns and an astonishing 70 passes caught will translate into the NFL.
28. Green Bay Packers – WR Treylon Burks (Arkansas)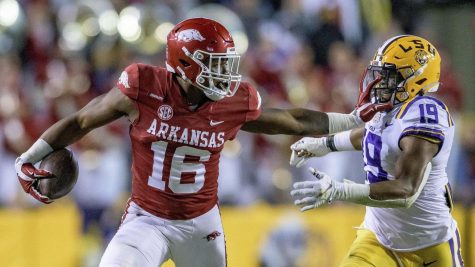 What's this? Could it be? The Packers took a wide receiver that could actually do something? Somebody pinch me. This is probably the reaction of any fan reading this or watching the Draft this Thursday. Burks is not only a receiver, but he is my favorite receiver in the class. Burks stands at 6 foot 3, a bigger receiver than most, and weighs 225 pounds. At his size, he was able to run a 4.55 40 yard dash. That is a very respectable time for someone as big as he is. What blows me away about Burks, however, is his big play ability. His high point grabs can make jaws drop, his ability out of the backfield is a trait you don't see from most receivers. Burks, in my opinion, is a bigger version of Deebo Samuel; and we saw how good Deebo was this season. If the Packers are able to get both Davis and Burks they will come out of day 1 as a clear winner.
29. Miami Dolphins (From San Francisco 49ers) – RB Isaiah Spiller (Texas A&M)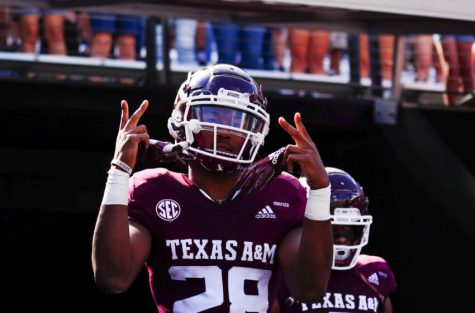 I am normally very against running backs going in the first round, but the Dolphins pick one up with their first rounder because they elect to go with the best player available at a position of need. Spiller is a bigger back, standing at 6 foot 1 and weighing 215 pounds, but size doesn't stop him from being a great running back for the only team to take down Alabama this regular season. The Dolphins need an answer at running back, so they pick up the 1,000 yard rusher and pray that he can run the ball well to take some pressure off of Tua needing to complete a pass.
30. Kansas City Chiefs – WR Jahon Dotson (Penn State)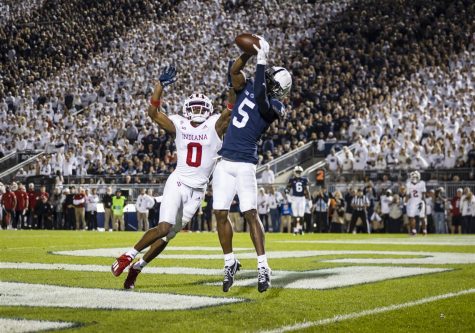 The Chiefs made a trade I don't think anyone expected them to make when they traded Tyreek Hill to the Dolphins. So, I have them filling the hole he left with someone who could turn out just like him. Jahon Dotson is not a big guy at 5 foot 11 and 184 pounds, but his 4.43 40 yard dash puts him up there as one of the best deep threats in the draft. Size doesn't matter when speed separates him just as much as if he was 6 foot 4. Dotson will be another speedy receiver for Patrick Mahomes to beam the ball to. That is a matchup I love, Mahomes to Dotson could be just as talked about as Mahomes to Hill. Dotson will fill an immediate hole and could help the Chiefs to get to another Super Bowl.
31. Cincinnati Bengals – OL Zion Johnson (Boston College)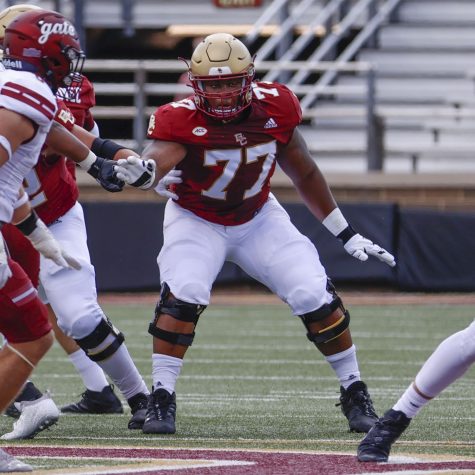 The Bengals were an offensive line away from a Super Bowl last year, in my opinion. The Bengals did have a few signings on their offensive line this past off season, but lacked a young player to step in and stop Joe Burrow from getting hit. They elected to take Jamaar Chase last year instead of Penai Sewell, so they fill that need now. Johnson might not be a big offensive lineman at 6 foot 3, but he was able to bench 32 reps at the combine. His strength separates him from the rest of the offensive linemen in this year's draft class and he should be protecting Joey B for years to come.
32. Detroit Lions (From Los Angeles Rams) – WR Drake London (USC)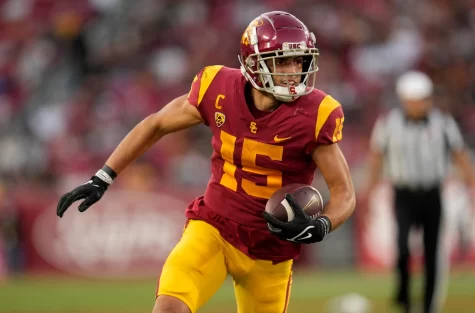 With the last pick in the first round, the Lions use their second first round pick to take someone that could be the best receiver in this draft. London, before getting injured, was the best receiver in the NCAA. Why does he slip to the bottom of the first round? No one knows how he will play once he comes back from injury. The Lions are in a position to take a boom or bust player in my opinion. Either London is a great receiver or just average. One thing I love about London is his size. Drake stands at 6 foot 5 and would add a level of height to the Lions offense that they just don't have right now. They may have added D.J. Chark this offseason, but that won't be enough to pass on NFC North defenses. London adds an element to the Lions offense that will allow them to bite a few kneecaps in 2022.
Leave a Comment