Sports Editor takes on March Madness
March 22, 2018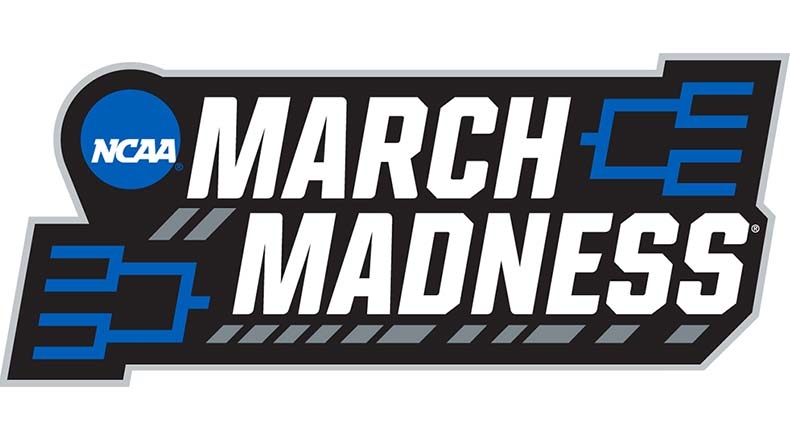 Update #1
Some call me an expert. Most call me a risk taker. Few call me names that do not need to be repeated. However, my undying knowledge of March Madness has been summoned, and for the first time in Hawkeye history I plan to share the secret to an impeccable bracket. With the help of the sports section here at the Hawkeye, the pure combination of wins and losses has been created. Behold, The Perfect Bracket.
As you can see, the Hawkeye chooses the Duke Blue Devils to cut down the nets in San Antonio. However, to get to the championship game, all 64 teams must pass their first test in the Round of 64. The Hawkeye has chosen eight upsets, four of them being more significant than the others. There's the 11 seed St. Bonaventure Bonnies taking down the 6 seed Florida Gators, the 12 seed South Dakota State Jackrabbits beating the 5 seed Ohio State Buckeyes, the 12 seed New Mexico State Aggies overthrowing the 5 seed Clemson Tigers, and finally, our most confident upset of the four, the 11 seed Loyola Ramblers defeating the 6 seed Miami Hurricanes.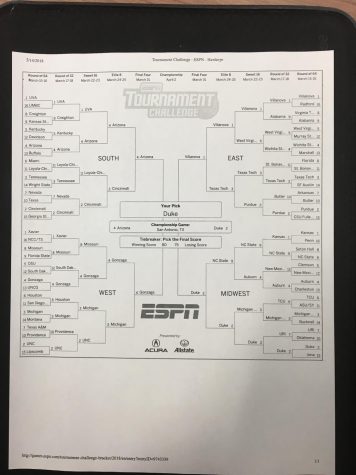 Breaking down the predicted Loyola-Miami upset, Miami has seven players averaging between 8 and 11 points, while Loyola has four sharpshooters averaging more than 10 points per game according to ESPN. Furthermore, Loyola has firepower on the defensive side of the ball as well, while Miami struggles a bit more in that area. Looking at their 12 most recent games, Miami is a scrambling 7-5, while Loyola is s surging 11-1. To top it all off, the Hurricanes lost their best all around player due to a stress fracture in January. Ultimately, Loyola keeps dancing while Miami goes packing.
At the end of the day, achieving the perfect bracket is a unimaginable feat with 147 quintillion (147,000,000,000,000,000,000) combinations, unless you are the Hawkeye who will undoubtedly complete the perfect bracket. Therefore, as brackets lock at noon, take our advice to earn a slice of our upcoming success. Good luck to all that compete, and happy March Madness to all!
Stay tuned for updates before and after each round of the tournament to stay on top of all bracket news!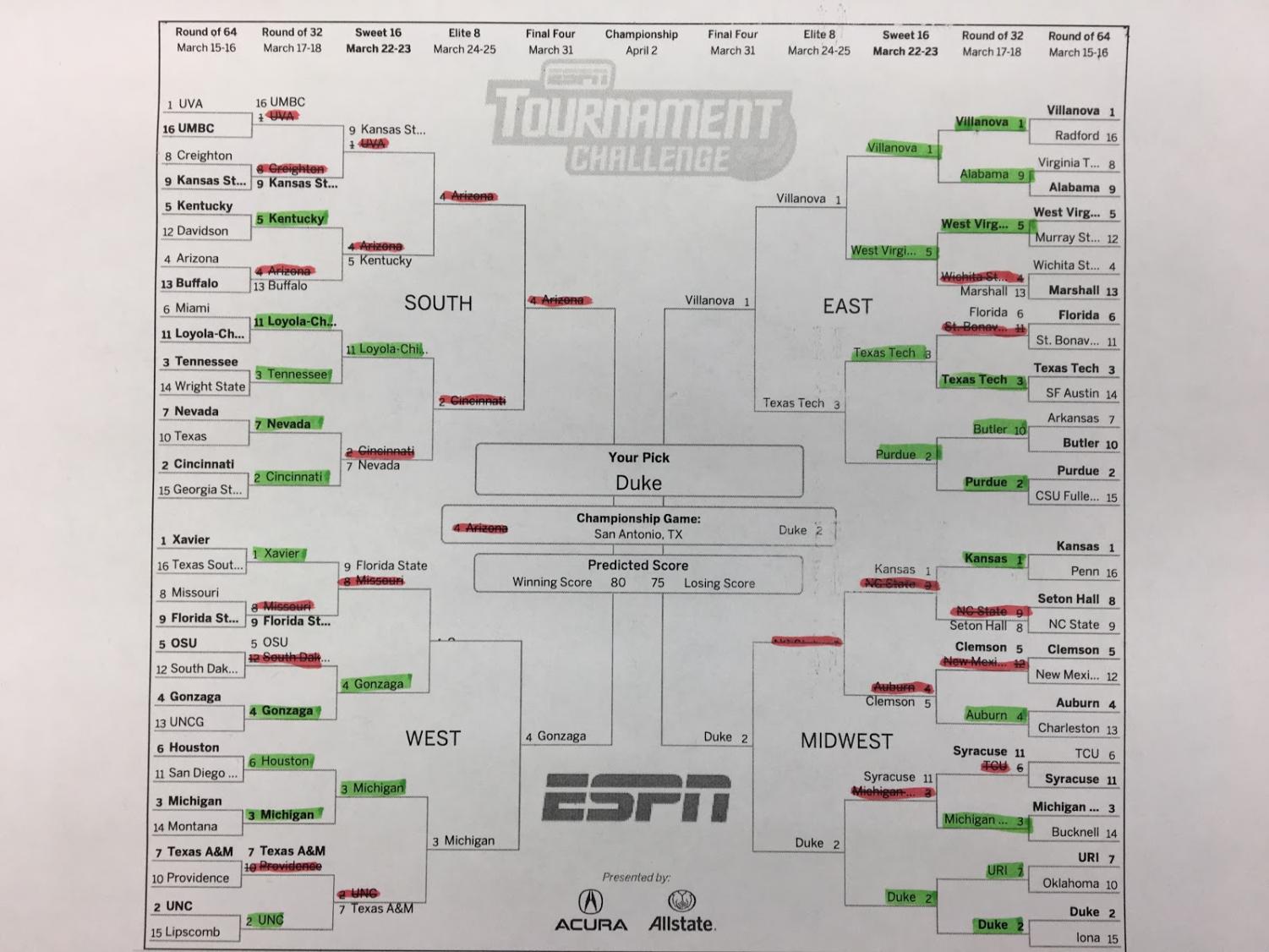 Update #2
Boy oh boy oh boy, if your bracket isn't busted yet, then you must be able to tell the future. This tournament has seen upsets left and right, and the only place to start is with the round of 64. In the round of 64, there was a total of nine upsets. Out of the 32 games, the Hawkeye guessed incorrectly on 11 of them.
One of the biggest upsets was the 16 seed UMBC over the overall one seed UVA. Who would have guessed that in the first place besides the fans of the Chesapeake Bay Retriever? Thank to Jairus Lyles' 28 points and his 40 minute playing time, this will be known as the greatest upset in sports history for decades to come. Don't be surprised if you see a movie about this team of underdogs in 30 years.
Most of the other upsets were nine seeds over eight seeds, as well a 10 seed over a seven seed, but like most years the upsets were real. 13 seed Marshall took down four seed Wichita State, and 13 Buffalo defeated four seed Arizona who was a huge favorite to win the whole tournament this season. Furthermore, 11 seed Syracuse who had to play an extra game to even get in to the tournament beat six seed TCU, and our ever so lovely 11 seed Loyola-Chicago did their duties and moved on to the next round with over six seed Miami thanks to a buzzer beater from Donte Ingram. However, this round was just the beginning.
The round of 32 featured a total of 6 upsets out of 16 games. Although that may not seem like a lot, America went wild! First, nine seed Florida State completed the incredible of taking down the one seed Xavier, the second time a one seed was defeated this tournament. Next, seven seed Nevada found a way to come back from a 22-point deficit and defeat two seed Cincinnati, another heavily favored team. The comeback is the largest recorded comeback in tournament history according to ESPN. Then, seven seed Texas A&M overthrew the the defending champions, two seed UNC.
This shocking feat was not just a lose, but a blow out with Texas A&M winning by a 21 point margin on UNC's home turf! Later, 11 seed Syracuse, one of the first four teams, defeated the almighty three seed Michigan State. Like UNC, this was in Michigan State's home state. This was a much closer game, however, as Syracuse won by only two points. Lastly, without further ado, the one and only 11 seed Loyola-Chicago defeated three seed Tennessee, and it doesn't stop there! For the second time in a row, Loyola got ANOTHER last second shot, this time by Clayton Custer, to win the game by one point! This was an incredible feat, but not nearly as amazing as our Michigan Wolverines! Three seed Michigan defeated six seed Houston on a last second three-point shot by freshman Jordan Poole to win the game. Michigan won the game by one point and moved on to the Sweet Sixteen.
In terms of the Hawkeye bracket, eight of our Sweet Sixteen teams, five of our Elite Eight teams, three of our Final Four teams, and one of Championship teams remain. Our champion, two seed Duke, is still dancing their way to a national championship. However, this tournament has been full of upsets and has proven to be volatile. Will the Duke Blue Devils prevail? Do the Loyola Ramblers keep dancing their way to their first Final Four? Do the Michigan Wolverines stay strong while their fellow favored teams drop like flies? No one knows, and only time will tell.
To those who made second chance brackets, you will probably fail again so it isn't worth trying. To those who stay loyal to their original brackets, the Hawkeye salutes you. To everyone in a tournament pool, good luck to you with your single Final Four team remaining! To all fans of college basketball, there is always next year. Happy March Madness everybody!