Minions: The Rise of Gru
September 21, 2022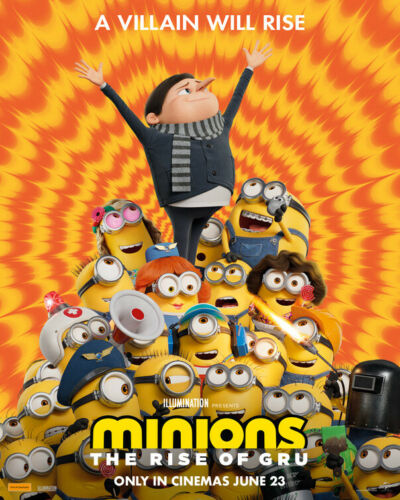 We all grew up watching the Despicable Me movies, and laughing at the mischievous Minions and their gibberish. Minions: The Rise of Gru continues this trend, acting as a hilarious, and fun-to-watch prequel to the other Despicable Me films, keeping me entertained the entire time. 
   The movie starts off by introducing the Vicious 6, a group of supervillains that 12 year-old Gru idolizes and wants to join. We see returning characters including Gru's mom, Dr. Nefario, and Minions, Kevin, Stewart, and Bob, who are just as funny as ever. There are also some new characters introduced in the film.
   One of the new characters is Otto, one of the Minions. Otto had the entire theater laughing with his determination to help Gru, even after all of the misadventures he goes through. However, Otto's best moments are in his interactions with the other characters which add to how lovable and funny he is.
   I really enjoyed watching the events in Gru's preteen life that made him the person he is in the Despicable Me movies; he has really big goals and aspirations as a young kid, and we know that as he gets older, those goals and dreams never get smaller, eventually leading up to his plan to steal the moon. 
   The storyline was really fun to follow, and it was especially enjoyable seeing new, interesting villains and what their supervillain powers were, while seeing Gru compete with these much older villains, and still doing well! 
   On top of it all, the soundtrack was great. Songs by many 70s artists were featured, adding to the setting and timeline that it all took place. Likewise, the bright colors, patterns, clothing styles, and hair complimented the 70s look.
   In all, the movie was incredibly funny, and its references and ties to the original Despicable Me movies were exciting to catch, topping off a very enjoyable experience of a movie.