Nope
September 22, 2022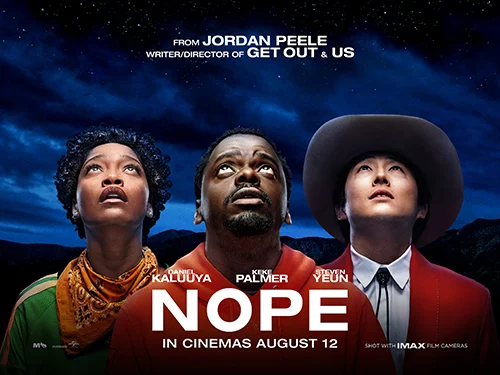 In the modern landscape of film, there is one problem which rises above all the rest: originality. For example, compare the highest grossing films of 2021 to those of 1985. Although it is clear sequels, remakes, and reboots have always had a place in the financial-driven cesspit that is Hollywood, there has never been a time they are more prevalent than the present. However, one director has consistently pumped out thought-provoking, original films over the past couple years: Jordan Peele. Peele has gone against the grain, and Nope, his most recent film, may be his most original yet.
   Explaining Nope presents a challenge, as revealing too much about the plot may ruin the movie depending on the viewer. As a quick synopsis, Emerald and OJ Haywood, played by Keke Palmer and Daniel Kaluuya, start to notice strange occurrences affecting animals and the night sky around their California horse ranch. Also, aliens may or may not be involved.
   Although many may see it as a horror film, it isn't particularly scary and it really isn't trying to be. In fact, one of the best parts of the film is the variety in the genres it presents including thriller, comedy, science fiction, and mystery, and how it uses these genres to create an atmosphere so dense that you could swim through it.
   As for the acting, Keke Palmer absolutely stole the show as a likable and enthusiastic sister to OJ, with the siblings playing off of each other incredibly well. Side characters, such as Ricky Park, an ex-sitcom actor played by Steven Yeun, and Antlers Holst, an wealthy yet depressed cinematographer played by Michael Wincott, also act as interesting and original side characters.
   However, the most incredible part of the film is Jordan Peele's vision and how it is executed; certain scenes in the film, particularly in the final act, are extremely exciting and generally entertaining. In other words, the experience Peele presents in the film is unique and something that you can't quite understand without experiencing it yourself.
Overall, I would highly recommend Nope; it is exciting, fascinating, and generally enjoyable. Hopefully, more unique and risk-taking films are made in a similar style in the future.