Paddington 2 Redefines the "Family Movie" Genre
Growing up the oldest of three siblings, the majority of movies that I've seen in my life have been PG, which I guess is kind of sad, but I've learned after watching Paul King's Paddington 2 that it depends on the PG movie that you see to decide whether or not you should be ashamed of yourself for seeing a kids movie at age 16.
That being said, I've seen my fair share of fluffy, family friendly movies that are made for a younger audience and as I've gotten older, my interest in these films has significantly dwindled, enough to make me not want to go see Paddington 2 despite its overwhelmingly positive reviews.
I was expecting a fluffy, colorful kids film and that's exactly what I got, in the best way possible.
Following the return of the Brown family from their last adventure with the sweet, marmalade-loving bear, Paddington (impeccably voiced by Ben Whishaw), the family and the city of London have learned to integrate the little brown bear into everyday life and in return, Paddington gives back a little bit of joy to everyone he meets, even when he finds himself in impossibly unhappy situations.
This theme continued throughout the whole film and it was one of the best plots that I've ever seen one of these movies take on. Not only were the writers of this film able to craft an adventure of a lifetime, but they were also able to touch the hearts of every single person in the theater through the well developed backstories of each character that made an appearance in the film.
 Throughout the film, I was never bored and not once did I roll my eyes at a corny line or an overly-done scene. The colorfully created streets of London and the amazing transformation of an English prison into what resembled a pink-themed bakery had me in shock. Because of this, Paddington 2 has to have one of the best visual and animation teams in all of film, as their work in this movie rivals that of Pixar.
Not to mention the incredible acting throughout the entire film by not only Ben Whishaw as Paddington, but Hugh Bonneville as the stern, yet comical Mr. Brown, The Shape of Water's Sally Hawkins as the sweet and charming Mrs. Brown, and Award-winning actor, Hugh Grant as the intriguing villain, Phoenix Buchanan. The entire cast brought such a special and distinct aspect to the movie that contributed to its innocence and lightheartedness as a family film.
Enough cannot be said for how well Paddington made his triumphant return. The hour and 44 minute film was exciting, lighthearted, funny, and visually stunning: everything a family movie should be. Despite maybe a few scenes where Hugh Grant's character became overly theatrical and took away from the sweet and innocent atmosphere that the Browns and Paddington created, I was overall impressed with this film.
So, even though I'm 16 and my love for a PG movie has started to disappear, Paddington 2 reminded me of the bliss and joy of what being a young child meant, with every new day being an adventure of a lifetime and life itself being as sweet as a marmalade sandwich.
About the Writer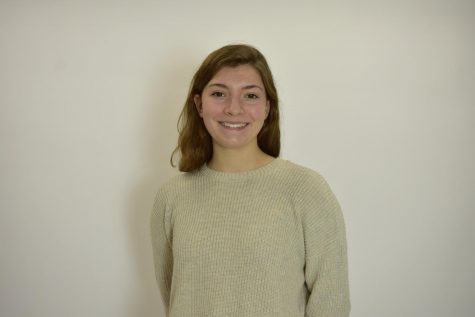 Lara Janosz, Managing Editor
Hi, my name is Lara Janosz and I am a Managing Editor on the Hawkeye newspaper. I am a junior this year and this is also my 3rd year on staff. Outside...