J. Cole back at it again
After a year's hiatus from releasing any music, J. Cole surprised the rap world with the announcement of a new album.  "KOD. 4/20" tweeted the rapper on April 13th. Once again with no features, Cole does not disappoint with a variety of music.  The twelve track album broke first day streaming records on both Apple Music and Spotify.
Also known as "Kids on Drugs" or "Kill Our Demons," the album includes minimal production.  The tracks are more focused on showcasing the lyrical ability of J. Cole, rather than his producing ability.
In contrast to his past two albums, KOD, does include a feature.  However, this featured artist, kiLL edward, is just J. Cole's distorted voice.  He represents one of the strongest urges of J. Cole, the part of him that hasn't always dealt with pain correctly.  J. Cole's step-father was named Edward, and in the album, the artist openly talks about hurting the man who hurt his mother.
A song off the album that has already gained a tremendous amount of attention is "1985 (Intro to 'The Fall Off')."  In the song, Cole responds to the hate he has received from new artists Lil Pump and Smokepurpp. The track is unique in many different aspects.  First, there is no chorus. It is three minutes and ten seconds of Jermaine Cole rapping continuously about new rappers and their inability to phase him.  Secondly, in contrast from typical rap diss tracks, J. Cole starts by wishing them the best of luck and telling them "I hope you make enough to buy your mom a house."  However, he then transitions to tell them that not only are they not good enough for rap, but they are also hurting the public perception of African Americans, as shown in the lyric, "But have you ever thought about your impact?"
"ATM", an abbreviation for Addicted to Money, is another song on the album, and has already been made into a music video.  The track is an upbeat, introspective recording that touches on the relationship between J. Cole and money. In the song, he discusses his fame and fortune, and how the money that comes along with it has become a way of life.
KOD has already become the best selling album of 2018, debuting at number one on the Billboard Artist 100 chart. In short, I would give J.Cole's prominent album a 4.5/5 stars.
About the Writer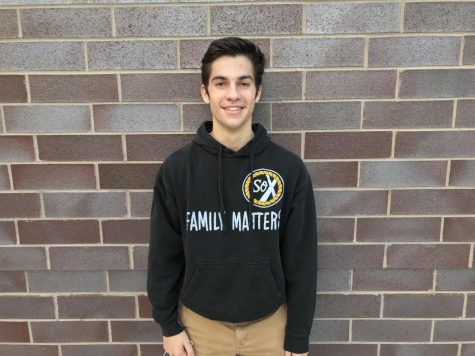 Jonah Stone, Managing Editor
I'm Jonah Stone, a junior and a first year staffer. I am a managing editor. Outside of school, I love to play hockey and hang with my homies.