Poms a Year in Review
After nearly 6 months of daily practices, weekly games, and special pep assembly performances, the Varsity poms season has finally come to an end. And not only is this the end of the team's performances, but they are also saying bye to 15 seniors.
One of the most exciting games is senior night. For poms, underclassmen pair up and get gifts for the seniors that they are assigned to. The team also celebrates with a team dinner before the game. Giving gifts the week leading up to the game is a fun way to honor the seniors; freshman Lainie Rubin says the thing she is least looking forward to is practice without the seniors.
"I am really going to miss the seniors next season," said Rubin. "The seniors this year were instrumental in my transition into high school and joining the team; poms will not be the same without them."
Not many Varsity sports last for two seasons, however, Varsity poms performs and practices during the fall and winter. Most pomers prefer fall season; the warm weather and packed student section make performing at halftime exciting. However, winter season games are indoors and the basketball games are much quicker than football games; sophomore Rachel Kruman explains her love for the winter season.
"I prefer winter season because the games are more interesting to watch and I enjoy dancing on the court instead of the football field," said Kruman. "I like that the games are a lot shorter and we are closer during to the audience when we dance during basketball games."
Some of the most important factors in school sports are the relationships built between teammates. Poms has been a great way for girls to build relationships with older and younger pomers; these bonds are so important for freshman transitioning into high school.
"The highlight of the season for me was making new friends. Being one of the youngest on the team, I enjoyed getting to know older girls," said freshman Lainie Rubin. "Some of the new friends that I made ended up being some of my closest friends and made my first year of high school so enjoyable."
Although the season is over, pomers are looking forward to picking up again in the fall. With a new season means many new dances, new team members, and even a new coach for next season. Current members of the Varsity poms team are excited to begin summer practice and creating routines to perform in the fall.
"I am looking forward to all being together again and having a fun time with new dances and new choreography," said Rachel Kruman.
Leave a Comment
About the Contributor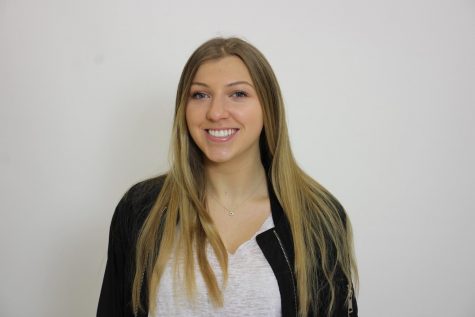 Kaitlyn Luckoff, Section A Editor
Hi, my name is Kaitlyn Luckoff and I am the Section A Editor on the Hawkeye newspaper. I am a junior and this is my 2nd year on staff. Outside of the Hawkeye,...