Starbucks Serves a Latte of Holiday Fun
The pure, white crystals dance across the sky adhering to the surfaces of the world in front of me. While the snowflakes mesmerize my mind, I slowly sip my warm, flavorful beverage and I am instantly immersed in the holiday spirit. The aroma of pumpkin spices emanate from the colorful, holiday-designed cup and I relax in a cozy Starbucks during a cold, elegant snowfall.
Starbucks has created many holiday drinks this season, new and old. Among them are flavors such as Maple Pecan, Snickerdoodle, Gingerbread, Pumpkin, and Peppermint.
The traditional Pumpkin Spice Latte is delightful, especially when served warm. Adorned by whipped cream and sprinkled with pumpkin spice topping, the silky concoction dissolves into the drink. While this indulgence is one of my favorites during the winter season, it is, however, loaded with sugar and milk – and calories. A size grande, 16oz, packs in 380 calories, with a total of 14g of fat and 50g of sugar. On the upside, it contains 14g of protein. I typically order my drinks with skim milk in order to reduce the number of calories and fat, as I am not trying to stash extra calories for winter hibernation.
Another of my favorite holiday drinks is the Peppermint Mocha. The smooth texture of the peppermint harmoniously coincides with the complex mocha flavors.  This holiday drink is one I look forward to and highly recommend. The cool, spicy mint is enhanced by a whipped cream topping and garnished with chocolate shavings. I am always sure to snap a picture of this beautiful drink to send to my friends who wish they were as cool as me.
Similarly to the Pumpkin Spice Latte, the Peppermint Mocha contains a whopping 440 calories for a grande. It retains 15g of fat and 54g of sugar. Ordering this delicious treat with skim milk offers for a healthier alternative to cut down its unhealthy elements.
The holiday drinks are unfortunately quite costly. The Pumpkin Spice Latte rakes in at $4.95 for a grande and the Peppermint Mocha costs $4.65.
These two-holiday drinks from Starbucks are absolutely my favorites as a result of their invigorating yet relaxing flavor combinations. But due to their high expense, I normally purchase the holiday beverages only once a week.
I would recommend these drinks to everyone, not just coffee drinkers. The holiday beverages undoubtedly put you in the holiday spirit and evoke a sense of winter joy. For fellow students, grabbing one of the drinks after school is a delightful way to end a long day of hard work – it is also fantastic motivation to complete the hours of homework that one may face.
Leave a Comment
About the Contributor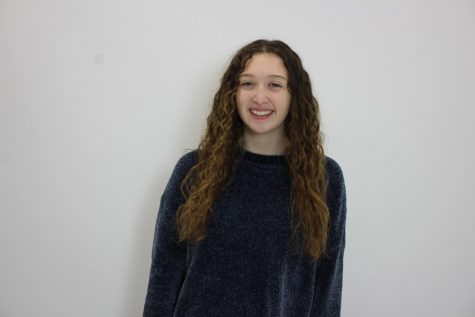 Ava Singer, Staff Writer
Hi, my name is Ava Singer and I am a Staff Writer on the Hawkeye newspaper. I am a senior and this is my 2nd year on staff. Outside of the Hawkeye, I...