Signing on to the Next Level
On November 28th, 2018, Seniors Andrew Zhang, Mikaela Schulz, and Tia Mukherjee signed their NCAA Letters of Intent for Division I schools.
"When I received the offer from Michigan State I was very happy," said Mukherjee, who committed to playing tennis at Michigan State University. "A couple years ago when my brother, who goes there right now and is on the men's tennis team, was going through the recruiting process, I was able to see how things ran on the campus and how the tennis team worked, and from all that I already wanted to go there. So when I got an offer myself, I was thrilled."
Zhang, who committed to play tennis at Duke University in Durham, North Carolina, chose the school because "Duke had the best balance between academics and athletics."
"I saw myself reaching my fullest potential as an athlete with the state of the art facilities and excellent coaching staff, while also getting a world-class education and participating in campus traditions like attending the basketball games," said Zhang.
Schulz will play golf at the University of Michigan and she is "thrilled to be competing in golf on a collegiate level."
While their official training does not start until after graduation, committed athletes begin preparations for the transition to college-level athletics by the beginning of their senior year.
"I'm preparing myself for college tennis by polishing my game and working on the little stuff, but a really big thing that I've been working on is strength and conditioning," said Zhang.   "It's a whole other level transitioning from junior tennis to college and from everyone I have talked to, the conditioning is the hardest part, so I am trying to get a head start now."
In concordance with Zhang, Mukherjee has been " conditioning more off the court in addition to playing for about one and a half to two hours a day."
Beyond collegiate athletics, Schulz aspires "to tour professionally on the LPGA tour."
Similarly, Mukherjee plans to "try and play in some professional tournaments in the near future and see how they go. However, I definitely want to complete my college education first."
"I believe it will be an amazing experience for me and allow me to take my game to the next level," said Schulz. "It was the hardest decision of my life and there were a lot of factors involved in the decision, but I decided that the University of Michigan is the best college fit for me to further myself both academically and athletically, as well as prepare myself for success after college."
Leave a Comment
About the Contributor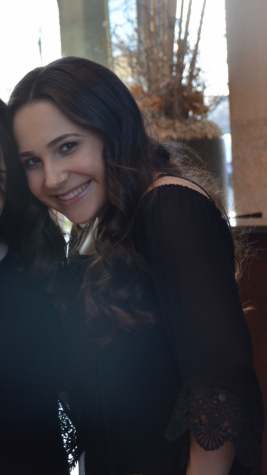 Sarah Kenkel, Social Media Manager
Hi! My name is Sarah Kenkel. I am currently a sophomore at Bloomfield Hills High School and this is my first year on the Hawkeye staff! I am on the forensics...