Thank U, Next Brings Experiences to Life
Hang on for a minute...we're trying to find some more stories you might like.
It's not a stretch to say that Ariana Grande has been through a lot in the past few months, but she has truly turned her pain into beauty through her latest album, Thank U, Next. The artist released her fifth album on February 9th, 2019, just a mere six months after the release of her previous album, Sweetener. Thank U, Next contains twelve songs through which Grande makes her emotional struggle and pain clear. The album has soared to #1 on US iTunes Charts and is set is take the #1 spot on the Billboard 200.
They say that Taylor Swift writes about her breakup too much but Grande might just steal the title with this new album. Fan theories overwhelmingly suggest that some of the songs are all about her engagement with Pete Davidson or the death of her ex-boyfriend Mac Miller and I would most definitely agree. The most tragic songs on the album are "Imagine" and "'ghostin'", both of which are tributes to Mac Miller and the time they spent together during his life. "Imagine" sends a message of mourning the end of a happy relationship while "ghostin" is a song about dreaming about a past relationship while currently in one. The lyrics are tear-jerking but a beautiful mix of sadness and joy that make you want to listen over and over again.
The second single that Grande released was "7 rings", a more upbeat song that contrasts the dark mood of the album. The artist was inspired about a real experience where she bought her and 6 friends Tiffany rings. Personally, this was my favorite song from the album and I loved it from the first moment I heard the remixed "Favorite Things" tune that Grade combined with catchy lyrics and a masterpiece was born. Unfortunately, the song has also stirred up controversy over the lyrics and similarities with a Princess Nokia song. The artist has had to publicly apologize for a cultural appropriation with unintentional references to a weave that many African American listeners found offense and for similarities with the Princess Nokia song "Mine" from her album 1992. While I enjoyed the song and played it on repeat for multiple days, the backlash was understandable and Grande handled them in good ways.
The riskiest song on the album, or at least in my opinion, was "break up with your girlfriend, I'm bored". The lyrics themselves lead many listeners to believe that the artist is simply, for lack of a better word, bored and ready for her next man, however, the music video provided two new views. The video shows Grande following a couple around all evening, attempting to seduce the boy away from his girlfriend however the video ends with Grande learning in for a kiss with the girl, although it cuts away before any kiss happens leading viewers to speculate. This ending leads many views to call the song a "bisexual anthem". However, others, like myself, believe that because the girlfriend in the video looks really similar to the artist, the song is in fact about self-love and breaking up with a boyfriend to fall back in love with yourself.  I think the artist added this song to the album because she wanted listeners to look deeper into the meaning and see while the name may provide a provocative name, the mess
All in all, the album is the perfect mix of an emotional purge with poppy songs that will be stuck in your head for days. I would 10/10, recommend listening to Ariana Grande's latest album because each of the songs has a powerful message. One thing's for sure, this is definitely not an album you'll be wanting to stay thank u, next to.
About the Contributors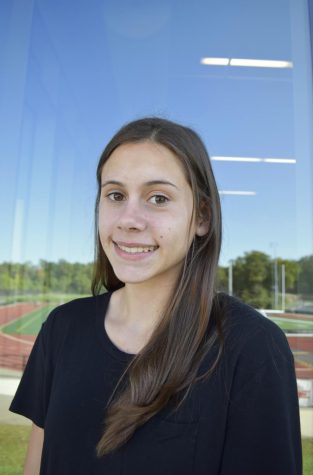 Shelby Jenkins, Section Editor
Hi, my name is Shelby Jenkins and I am a Sports Section Editor on the Hawkeye. I am a senior and this is also my second year on staff. Outside of the Hawkeye,...