Alita: Battle Angel is Advanced but Unexciting
Director Robert Rodriguez and producer James Cameron bring to life an empowering cinematic experience, Alita: Battle Angel, based off of the story "Gunnm" from the graphic novel series Manga by Yukito Kishiro.
In a dystopian world, a young cyborg, Alita (Rosa Salazar), wakes up in the Iron City to find that she has no recollection of who she is. As she navigates through the city, a part of her unknown past is uncovered when her special powers are revealed.  
A kind cyber-doctor, Dyson Ido (Christoph Waltz), takes her under his wing as he shows an interest in her extraordinary past. With the help of her new friend, Hugo (Keean Johnson), she tries to trigger her memories in hopes of understanding where she came from.
Even though it was an action-packed movie, it felt slow-paced in some scenes, especially in the beginning and in transitioning between scenes.
Furthermore, it lacked some character development as some of the characters were not explained in their entirety. Although they were described well and visually interesting, their specific roles in relation to the plot and the main character, Alita, were not fully explained.
In general, the plot could have been further developed in order to explain the causes and effects of every obstacle that hindered the characters' motives.
On the other hand, kudos to the impressive sets, costumes, and lighting for enhancing the overall tone and storyline of the movie.
The Iron city was definitely designed outstandingly well with such elaborate details to display its true meaning.
CGI was used for the main character, Alita, since a part of her composition was mechanical. She looked mostly like a human being regardless of all the mechanics and superpowers that pertained to her. Her eyes were enlarged as well, which is not a human-like quality, but they still looked very realistic as well. Other realistic features included hair and skin on her face. They wanted to preserve the human qualities inside a robot-like body.
All in all, it was neither a good nor a bad movie. It was one of those movies where it can captivate one's attention easily with the thrilling fighting scenes, but the slower scenes are not well developed to keep the storyline flowing.
If you are in the mood to watch a fantasy and science fiction movie, then it would be great to tune into with family and friends. However, if you are not, then I would not suggest this movie to be on your watchlist. I would give this movie a 3 out of 5 stars.
Leave a Comment
About the Contributor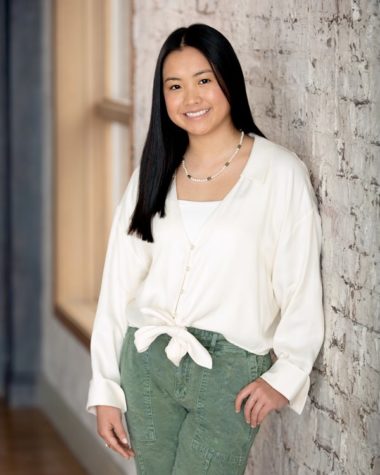 Sonya Barlow, Photography Manager
Hi, my name is Sonya Barlow and I am the Photography Manager for The Hawkeye. I am in my senior year and this is my third year on staff. Outside of the...