Avengers Endgame is the End We All Needed
When the final Lord of the Rings movie came out, I remember my dad sitting me down and telling me to watch it. I remember him telling me, "It's a great series, watch this." I, while young, quickly came to love it. When Star Wars: Revenge of the Sith came out, he said it again, "it's a great series, watch this." But when Avengers: Endgame came out, I was the one who told him "This is a great series, watch this."
Almost every other movie franchise I love was introduced to me by my parents. I was told how great they were and eventually came to love them. The Marvel Cinematic Universe, however, was the first movie franchise I decided to watch and came to love on my own. This franchise has been a part of my childhood. When I think of the MCU, I think of growing up. These characters have played a huge role over the course of my life. This is why I, and so many others, were excited for Avengers: Endgame. This franchise has taken up more than half my life. It's the end of a story I grew up with.
Endgame begins with the world's heroes left in a state of disarray over what to do next after Thanos snapped his fingers and wiped out half of all living things. We see Iron Man stranded in space and the rest of our heroes left picking up the pieces on Earth with the latest addition of Captain Marvel to the team. This was honestly where a large amount of credit is due towards the Russo Brothers and their ability to keep everything hidden from not only the public, but the actors as well leaving everyone curious as to what was next in store for the Avengers.
To be frank, when I first heard that the film had a runtime of 3 hours and 2 minutes, I was ecstatic. 3 hours of watching my favorite superheroes fight in an epic battle? SIGN ME UP. But this wasn't a three hour long fight to the death. Endgame, like the MCU, was cleverly split up into 3 phases. The first phase of the film set the stage, it showed us the effect of the snap on society and our characters. The second was an adventure. And the third phase was the climax. I honestly preferred this over a three hour battle. This setup was balanced, as all things should be.
One of the knocks one Infinity War was that it was choppy and had serious pacing issues. Endgame rectified both of those problems. It started slow but picked up quickly and it felt like a single story building to a single climax, not a couple different movies pieced together.
The other enjoyable part of this movie was that it took characters we have come to understand like the back of our hand for the past ten years and still surprised us with them. It gave us different sides to them and unique endings to their decade long character arcs.
Nevertheless, the movie did have its faults. While it had some funny elements like Thor and his beer belly, I wish we got to see a lot more of the characters we have come to know and love. The movie did its job by showing how Thanos truly hurt and changed all these characters, but I wish we got to see the beefed up Thor who makes everyone look tiny and more of the charisma and goofiness of other characters as well.
Without a doubt, my favorite part was the team-up and it truly is to be remembered for the ages. When we have a 10 year franchise in the making, it's difficult to bring everyone back and incorporate all these moments connect with the audience, but that's where the film excelled. These team-ups weren't just part of that final climax of the movie too. They incorporated it into the larger scheme of things, weaved it into the character plotlines, and made it truly memorable by essentially summarizing highlights of all the films through the time jumps, catchphrases, humor and more.
With such a strong end to such a strong franchise, Endgame did its job and more. It gave us the nostalgic feeling of sitting in the theaters watching earlier scenes and highlights from all across the timeline and it gave us exactly what we wanted. Or rather more accurately. What we needed. It gave us more twists and turns than we could have anticipated and brought us to the thrilling end that was much deserved.
We learn that Thanos has always had this garden, a place of peace and tranquility, his "retirement plan," as it was so eloquently put in the film, where he would get to live out his final days in peace. We sort of got that too. With such a peaceful ending of legacies getting carried out. We see Tony Stark through his daughter, Captain America through Falcon, and we get this moment of resolution. Avengers: Endgame isn't exactly the chance for all these heroes to fix all these problems and live happily ever after, but it's a chance to reach an infinitely more satisfying end to an era.
Leave a Comment
About the Contributor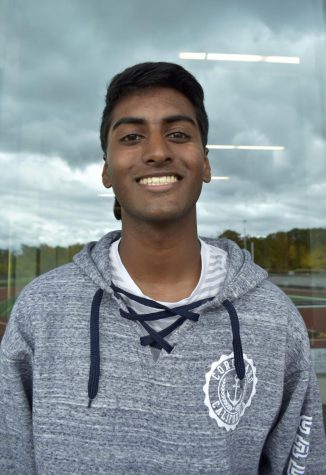 Kushal Sanjeev, Editor-in-Chief
Hi, my name is Kushal Sanjeev and I am an Editor-in-Chief on the Hawkeye Newspaper. I am a senior this year and this is my third year on staff. Outside...