Student Insight into the Audition Process Behind Fiddler on the Roof
Around 110 people auditioned from September 9 through 11 for this year's fall musical, Fiddler on the Roof, and of that, over 95 were cast; contrasting last year's production of Cinderella, which had a cast of over 70. Though not as high a caliber as a Broadway audition, these auditions include dancing, singing, and acting, with a third day of callbacks for the students the casing panel feels they need to see again. The three-day experience of auditioning for a musical is one not many students, other than those involved, know much about. 
In June, an audition packet of acting sides and music cuts is posted to the Broken Leg Theatre Company website, giving anyone interested the summer to rehearse and prepare. A few days before the actual audition dates, a workshop is run for anyone to attend where music director, Jessica Riley, runs through song choices, actors fill out necessary forms, and choreographer Shirel Jones teaches the dance they will be required to perform. 
Eddie Eichenhorn, a junior at BHHS, will be playing the lead character, Tevye, in this production and comments on how the audition process worked out for him.
 "I was nervous, I felt like there was a lot of expectations for me going into the audition process. And so, while I was confident going into the audition… I was nervous because I really wanted the role, and I think there were a lot of people who really wanted me to have the role and so I didn't want to let certain people down. I didn't want to let myself down." 
Putting hours of free time into preparation for an audition creates nervous anticipation in the days between the actual audition and when the cast list goes up. When that list is posted, though, feelings become either those of joy or sorrow.
"In the Jewish community especially it's like, I'm considering it like being Bar Mitzvah'd again… I think my grandmother called me crying," said Eichenhorn on the reactions from his family and friends on his accomplishment.
Jack Hale is the production stage manager, a position amongst those like the assistant stage managers and assistant directors that went through an application and interview process comparable to a job interview. 
"It's definitely a little bit daunting, knowing that we're going to have lots of small children and lots of people in general doing these things especially because we have so many special effects that go into a show like this. It's definitely a logistical headache."
Aside from the high school-aged cast members, Mary Bogrette, director, has invited many children––siblings of cast members and other elementary and middle school students involved in theater––to participate as the children of the town. 
Gretchen Peters, a senior, is taking on the lead role of Tzietel, Tevye's oldest daughter. 
"I'm so excited about the size of the cast and crew of this production just because it's a bigger community and each show is getting bigger and bigger… I just think the growing community of theater here is amazing and great for everyone."
Fiddler on the Roof will be performed at Bloomfield Hills High School from November 21st through the 23rd, and tickets will soon be available to the public at bhhs.ludus.com.
Leave a Comment
About the Contributor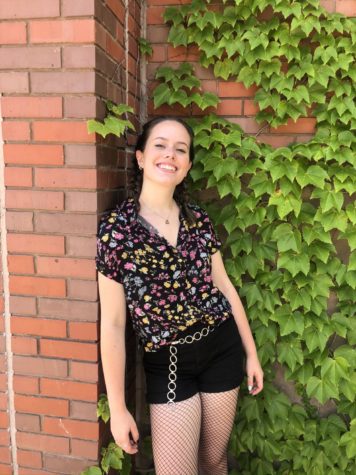 Cassandra English, Copy Editor
Hi! My name is Cassie English and I'm one of the Copy Editors for The Hawkeye. I'm a senior and this is my second year on staff. Outside of the Hawkeye...