Sheikh crowned Miss Michigan Teen USA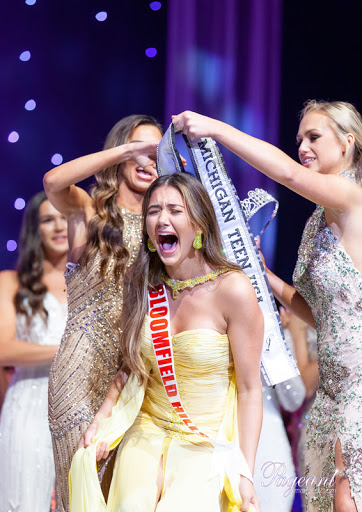 It was a historic day for the Bloomfield Hills community on September 22, as senior Aneesa Sheikh, was crowned Miss Michigan Teen 2020. Sheikh is the first teen from Bloomfield Hills to win this prestigious award since the competition began in 1983. Aneesa and the 34 other contestants took part in modeling Activewear, Swimwear, and Formal Wear. After modeling, they were asked questions about teens' over-indulgence in technology and social media. 
"I've always done public speaking," said Sheikh. "I was in Forensics last year so the questions on technology dangers were pretty simple for me."
Prior to this competition, Sheikh had never done pageanting, but had participated in many competitions like forensics, and was used to being in the spotlight.
"I never even had the desire to do pageants up until about a month before the pageant. I love being on stage, I love just being in front of an audience and being dressed up. So pageanting wasn't really out of my comfort zone at all," said Sheikh.
According to Sheikh, there were many challenges to be faced before the competition began. Because of this, the win was that much more important to her.
"I had to prepare everything myself. I'm used to it, but it still was hard getting everything prepared myself. The hotels, the whole schedule, the outfits, what I'm going to say, what my platform is. Also finding a dress was hard and very last minute, but worth the wait," said Sheikh.
Sheikh explained that this experience truly impacted her life, but she is also the same person she was before.
"This experience has not changed who I am and my values," said Sheikh. "Being crowned Miss Michigan Teen USA 2020 does not validate my confidence, talents, beauty, and core principles, but this title makes it easier to get my foot in the door to opportunities for my future, bettering the community around me, and sharing pertinent information with others to better our society."
Leave a Comment
About the Contributor
Noa Goldstein, Web Manager
Hi, my name is Noa Goldstein and I am Web Manager for The Hawkeye. I am in my 12th year and this is my 3rd year on staff. Outside of the Hawkeye, I am...