Marching back to normalcy
BHHS Marching Band returns to middle schools for Halloween performances
Halloween means something different for everyone. It may mean trick-or-treating, going to a party, visiting a haunted house, or carving a pumpkin. For marching band members, Halloween usually entails dressing up in costumes and performing at the middle schools as a part of a years-long tradition on the half-day. Last year, however, due to Covid, there was no such performance. 
   Although this year's performance differed from past years — the marching band typically performs their show indoors at each middle school, but on October 29th this year, the band marched the halls instead — the excitement of the band's return to the middle schools after two years could not be matched. Beginning at BHHS and then performing at WHMS and EHMS, the Halloween performance brought a special moment to the days of both the middle schoolers and the band members. 
   Drum major Akita Kotian says, "I felt proud to be able to showcase our work to the middle schoolers. This performance, bringing the end of marching season, was both emotional and fun. It made me realize I am going to miss these small marching traditions but I was glad to be able to spend this last show with my friends!"
The Halloween performance marks the end of an extremely successful marching band season filled with performances, including a firs
t-division-rated performance at the MSBOA marching band festival. 
   "We had an excellent marching band season. Our students overcame a lot of adversity and were amazing throughout the whole season. I am very sad that it is over but excited to get ready for our winter concert," says band director Alan Posner.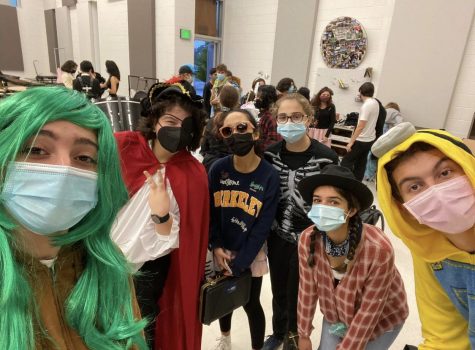 Drum major Brandon Ho agrees with Posner, adding, "I'm very glad I was able to meet so many amazing people this year. As a senior, I was very proud of what we accomplished this year. I thought this was our best year out of the four years I've been in band. Despite there being setbacks due to COVID, we were still able to push through and accomplish an amazing show."
   Although there was hardship in the season this year, the marching band was not fazed. The band members persisted and made the season successful, ending their season on a sweet note with the Halloween performance.
Leave a Comment
About the Contributor
Cameron Kaufman, Graphic Designer
Hi, my name is Cameron Kaufman and I am a graphic designer and staff writer for The Hawkeye. I am in my senior year and this is my first year on staff....