TikTok star turned rockstar
Jaden Hossler's Journey Through Fame and Failure
In February 2019, Jaden Hossler made his first-ever Tik Tok. After downloading the app, he started posting TikToks of POVs, dancing, and singing. These videos quickly started to gain views and help Hossler grow his platform. 
   As of November 2021, Hossler has accumulated over nine million followers on Tik Tok and more than five million followers on Instagram. A little less than a year later, at the age of 18, he joined a new content house called Sway House LA. Other creators in this house consisted of Bryce Hall, Josh Richards, Noah Beck, Kio Cyr, Griffin Johnson, Anthony Reeves, and Quinton Griggs. The Sway house helped Hosser create amazing friendships and excel in his social media career. 
Despite his success in the house, on May 30 Hossler tweeted, "Hello everyone, please know how grateful I am for you all. Music has saved my life, & I'm sure it has for many of you. With that, I have decided to dedicate my time & efforts to that side of my career. Josh & I have decided to take a hiatus from sway."
   Hossler came from a small town in Tennessee where he would be bullied for wearing girls' pants and listening to punk music. When he moved to LA, he struggled with his mental health and had many problems with his music producers. On top of that, Hossler also ran into a lot of publicized drama. All of these things led to Hossler needing to take a step back from social media and focus on his music career.  
      While in the Sway House, he released his first single, "Comatose." "Comatose" was released on February 26, 2020, and was immediately a major hit. It has 25 million views on YouTube alone. Hosslers musical talent caught the eye of producer Travis Barker. Barker, the most famous music producer/drummer in the pop-punk music genre, reached out to Hossler right after the release of comatose. Barker saw Hossler's potential and signed him to his record label, DTA Records. Travis Barker led Hossler to release his next song, "Angels and Demons." This is his most popular song and it is very widely streamed, used on Tik Tok, and has amassed over 38 million views on YouTube. 
   After starting his music career with two chart-topping hits, he continued to release four more singles. With the success of his singles, Hossler released his first Album. Tell Me About Tomorrow, comprised of 17 songs and totaling 44 minutes long, Hossler's album features collaborations from big names in the music industry, Machine Gun Kelly and Iann Dior. Tell Me About Tomorrow, has a mix of upbeat pop-punk songs, slow songs, and alternative rock. Hossler put so much heart and emotion into this album. The songs touch on emotional topics such as substance abuse, depression, love, heartbreak, and the toxicity behind fame.
​​   One of his most meaningful songs is "Pray." "Pray" is about his attempt at suicide, he sings, "Heaven Only knows when i'm in hell. None of my friends can even tell." Another very meaningful lyric comes from the song "Tell Me About Tomorrow," this song is all about his best friend's drug abuse problems. In this song he sings, "Promise you won't say goodbye right now, hold on when you have your doubts." These are only two lyrics that represent so much of the heart that goes into Hossler's songs. After the launch of the album, Hossler opened for Machine Gun Kelly on his Tickets To My Downfall Tour. Hossler is now headlining a tour of his own; he will be performing in Detroit on May 10, 2022. 
   There is no doubt that deciding to pursue his love for music has impacted him and all of the listeners that look up to him. After leaving the toxicity of social media, Hossler gained confidence, achieved higher goals, and started to be who he truly wanted to be. This is just one of many influencers inspiring stories about switching from social media to another career.   
Leave a Comment
About the Contributor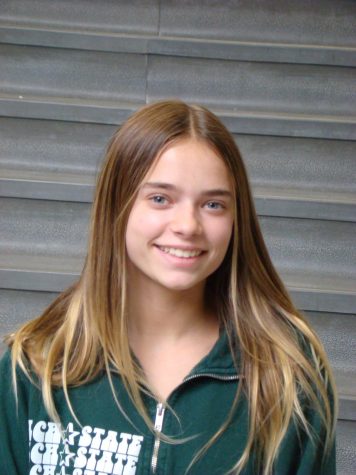 Taryn Saroken, Photography Manager
Hi, my name is Taryn Saroken and I am the Photography Manager for The Hawkeye. I am in 11th grade and this is my second year on staff. Outside of the Hawkeye,...