Benji's Bites Yoz Yogurt Treat YoZelf
Have you ever wondered what food tastes like? Well, look no further because I have the column for you! Read Benji's Bites to discover different decadent delicacies that I come across in my journeys through the halls of Bloomfield Hills High School and beyond! 
Yoz Yogurt, located less than 5 minutes away from Lone Pine Elementary and West Hills Middle School, was a staple for little Benji for years. For those readers out there who have never heard of frozen yogurt, please get your life together, and come back when you have done so. At least once a week, my dad would take my brother and me over to Yoz to get a cup of that icy goodness. Unfortunately, I haven't been to Yoz in years, but luckily they are still around and thriving. Recently, I decided to go back and see if the magic I remember experiencing as a child still exists today. 
   One Thursday after school, we drove over to the shop. As we approached the storefront, it dawned on me that Yoz wasn't where I remembered it. I realized the storefront had moved down a door. Although the store only shifted maybe 30 feet to the left, the entire place looked brand new. m
   Ever the gentleman, my dad held the door open for me and as I stepped inside, I scanned the interior. The walls have changed from a plain beige to a bright green. One wall is made of blackboard and beside it sits a basket of colored chalk for customers to draw. At about waist height on the wall were a couple of stick figures where you knew a little kid stood reaching up as high as they could to make their drawing. There weren't any other customers in the store at the time, but somehow it didn't feel empty. 
   When my dad and I walked up to the counter, we were greeted by a smiling teen employee. I looked up at the menu and was thrilled to see that they still serve their Only 8 Frozen Yogurt. The 8 in "Only 8" is the number of ingredients that are used in the production of the yogurt. Coming in at only 32 calories per half cup, the Fro-Yo is also all natural, fat, cholesterol and gluten free, and Kosher certified making it one of the healthiest desserts that I have come across in my dessert adventures (Not to be confused with my desert adventures which are a separate column). My dad decided to go with the peanut butter flavor, but I found myself wandering by the ice creams. Those are a few more calories but from what I remembered are totally worth it. I settled on moon brownie ice cream, which consisted of chocolate ice cream, white chocolate chips, and brownie bits. We paid for our cups and went to sit down.  
   One aspect of my childhood Yoz that I do miss is the high top counter seating by the window they used to have. I remember sitting with my elbows on the counter with my feet dangling below, watching people walk across the sidewalk in front of the store. Instead we chose a table near the window to take our first scoops. My ice cream was delicious and my dad reported that his frozen yogurt, which he topped with M&Ms, was also fantastic. As we ate, We shared our days and all the things going on in our lives. After we left the Yoz I told my dad, "That was the best ice cream I have had in a long time" 
   Although the ice cream itself was excellent, the whole Yoz experience was really what made this edition of Benji's Bites a…drumroll please….nine out of ten Benjis, making Yoz Yogurt the highest ranked establishment to date. If you can find the time out of your doubtlessly busy schedule, I highly recommend paying a visit to Yoz Yogurt to treat yozself.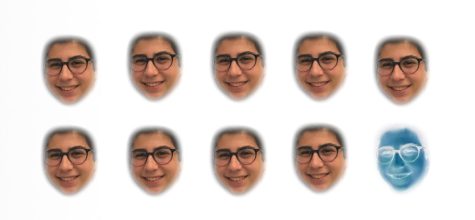 Leave a Comment
About the Contributor
Benji Stern, Managing Editor
Hi, my name is Benji Stern and I am a Managing editor for The Hawkeye. I am in my senior year and this is my second year on staff. Outside of the Hawkeye,...