Peacemaker: A Pleasant Surprise
Brutal Anti-Hero Fights Against Alien Invasion
When we watch superhero films, we expect there to be a hero to root for and a villain to scorn. Most of these movies do not bother dealing with the area in between: the anti-hero. An anti-hero is neither good nor bad, and the character Peacemaker embodies this idea. After featuring in The Suicide Squad, Cristopher Smith has returned to star as the title character in the rated-R Peacemaker. The show is much more violent than its competitors and has occasional dark humor. Peacemaker picks up right after Cristopher's previous appearance, and it has no time to waste.
   Peacemaker excels at telling the story in a unique style. Award-winning director James Gunn is acclaimed for his eccentric yet masterful flavor he imprints on all his projects. In Peacemaker, he delivers a satirical, thought-provoking tone that permeates throughout in the whippy dialogue, chaotic pacing, and most significantly in the choices of music. For most shows, I would immediately skip the intro, but Peacemaker does it in a clever, humorous way, including a catchy song that prevented me from pressing fast forward. The difference in style from most superhero content allows Peacemaker to stand out surprisingly well among a competitive field of shows.
   Another strong aspect of Peacemaker is the diverse and entertaining array of characters. Most undergo character development from beginning to end, and the show isn't afraid to have touching, heartfelt moments at times. By far, the standout character for me is Vigilante. He is an even more brutal reflection of Peacemaker, but he is simultaneously the comedic heart of the show. Vigilante is a walking contradiction, and you can't help but laugh whenever he is on screen. If you like Deadpool, chances are that Vigilante will be your favorite character as well. Christopher Smith, or Peacemaker, experiences the most growth during his journey. Back in The Suicide Squad, Smith claims that to reach his goals, he would kill anyone in his path regardless of who they are. Peacemaker even killed his comrade Rick Flag over a disagreement. Undoubtedly, he was closer to a villain than a hero. However, Smith begins to hesitate in his show and no longer wants to kill needlessly. He also forms close connections with his teammates despite naturally being more of an individualistic character.
   While the plot was simple, it served its purpose. However, the overall premise was not a strong point of the show. The conflict boils down to an alien invasion that Peacemaker and company need to stop. There is a twist at the end that is major to the story, but it was not incredibly satisfying and seemed to come out of nowhere without the appropriate legwork. Despite that, the little attention directed towards the plot gives the show some opportunities to focus its time and energy on its greatest strengths, like the character interactions.
   Even though Peacemaker strays away from many other superhero shows, its quality and uniqueness prove it to be an overall great series. The distinct flavor offered by James Gunn elevates the show and makes watching it a memorable experience. Peacemaker is a fresh take on the superhero genre that is superbly executed.
Leave a Comment
About the Contributor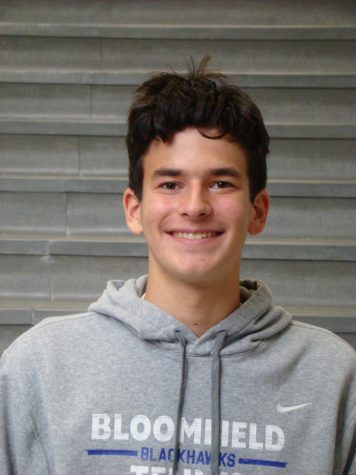 Benjamin Saperstein, News Editor
Hi, my name is Ben Saperstein and I am the news editor for The Hawkeye. I am in my junior year and this is my 2nd year on staff. Outside of the Hawkeye...