"The Fabelmans" is a crowd pleaser
New Spielberg movie explores his personal love of film
Steven Spielberg's latest film may be his last. The renowned director of Jaws, Jurassic Park, E.T., and Schindler's List fame, wrote and directed The Fabelmans, a semi-autobiographical film released on November 11th, 2022.
The movie follows Sammy Fabelman, played by Gabriel LaBelle, an aspiring teenage director loosely based on Spielberg's younger self. During the 1950s and 1960s, Sammy navigates his emerging interest in film against a backdrop of marital problems between his mother and father while moving from Arizona to Northern California. The film also examines how Sammy's Jewish identity affects his upbringing and high school years as he faces anti-semitic bullying from his fellow classmates. 
Michelle Williams and Paul Dano appear as Sammy's parents Mitzi and Burt, while Seth Rogan joins the supporting cast as Bennie, a family friend romantically involved with Sammy's mother.
A particular highlight in the narrative is when Sammy's great uncle Boris visits the Fabelman home, sharing a room with Sammy. Boris, an artist himself, lectures Sammy on the tenuous and fraught relationship between family and art and sacrifices required to be a filmmaker; this idea recurs later when Sammy discovers his mother's affair while filming a family camp retreat.
The Fabelmans is just as well crafted as any other Spielberg movie, filled with many memorable shots and sequences. The film is sentimental but also relies heavily on humor. John Williams, a frequent Spielberg collaborator, composed the brilliant score, even though there is only about half an hour of music within the film.
One of my favorite elements of the story are the callbacks to other famous Spielberg films. Just as movies such as Jaws and Raiders of the Lost Ark used extensive visual effects and clever filmmaking techniques, young Sammy Fabelman uses tripwire, props, and lens manipulation to enhance the visual qualities of his own homemade films. An intricate World War 2 battle sequence made by Sammy mirrors a similar sequence made by the real Spielberg decades later in Saving Private Ryan.
I do have a small gripe with the film. The runtime of 151 minutes is sure to put off some viewers, and I felt that the movie did often drag at some points. Although it was not excessively long, I do think the movie would benefit by shedding a few minutes.
With exceptional performances and filmmaking, The Fabelmans is sure to generate serious Oscar buzz headed into the new year and stands as one of my favorite films from 2022. 
(4.5 stars out of 5)
Leave a Comment
About the Contributor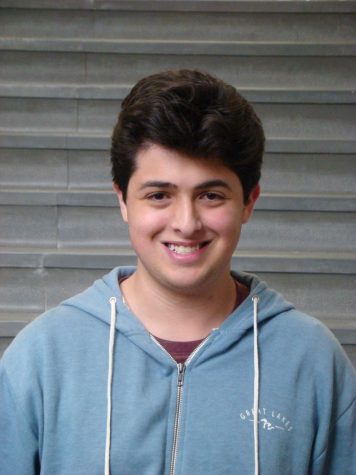 Hayden Buckfire, Managing Editor
Hi, my name is Hayden Buckfire and I am a Managing Editor for The Hawkeye. I am in my senior year and this is my third year on staff. Outside of the Hawkeye,...