What Is IB?
An IB education instills international mindedness, critical thinking, and independent action into all of its students and its available to anyone who seeks it out.
"IB is like an umbrella organization, there is actually four IB programs in the world and we have three of them here in the district," said IB coordinator Carrie James. "We have the primary years program (PYP), which is k-5, middle years program (MYP), which is 6-10, and then we have the Diploma Program (DP) which is 11 and 12."
Unbenounced to BHHS students, since kindergarten the IB standards have shaped their education. However, Sophomore year is when students must take the initiative to continue their IB education through the Diploma Program for their final two years of High School. Students that chose to pursue the IB diploma, in addition to the Bloomfield Hills Diploma, will walk out of high school with two Diplomas.
"In February, the counselors and I start meeting with the 10th grade students that are interested in the Diploma Program and we spend all our time trying to make sure that we find the right group of students," said James. "We try to make sure it's the right fit for the students and that they're making a good decision for themselves, committed to the program and that they're going to be ok being in situations where they're not told, 'this is how you do it'."
The DP is centered around preparing students to lead themselves and handle the responsibilities they will have in college and throughout their life.
"The DP teachers are very open and they encourage independent work, creating your own schedule, and regulating yourself," said Full DP candidate, Senior, Tamer El-Gamal. "Being able to get our work done how we want it, as long as we perform and meet the deadlines, is the best part of the program for me. By creating this climate in which the students are really responsible for themselves the DP has helped me, and other students, prepare for college level classes where, in a class of 150 kids, no one is going to be telling you what to do, but, you're going to be expected to get your work done. The DP is really a preparation stage for later life and is allowing us to develop our skills for when we are going to need them."
So how do DP students become so prepared? James says it's the "holistic approach" of IB that encourages students to have a well rounded education.
"To be a full diploma candidate you take the six DP courses. They're across 6 different subject areas, math, science, english, social studies, world language and art. This is intentional, because they want the students to challenge themselves in all subject areas. The contrast of that would be if you were a particularly strong math and science kid you might be taking APs in your math and your science and taking two or three sciences, but then not take a accelerated classes in, say, English or social studies. The DP encourages you to pursue that holistic approach."
The six core classes that the DP requires broaden students horizons and, in some cases, helps them to chose a career path.
"The approach to education that the DP takes has allowed me to open up my eyes and help me realize for college and beyond what I want to do," said El-Gamal. "I've always had the idea of going into engineering or medicine. Before the DP I never even thought about language or history, but, now I could even see myself involved in political sciences. These six areas give DP candidates a really well rounded education. They allow us to experience different situations and areas of knowledge and help us to decide what we want to do and where we want to be in the future."
IB classes aren't only available to DP candidates. Any student can mix and match IB classes with their regular schedule.
"A diploma program course student is somebody who chooses to just take some of the diploma program courses but not all of them," said James. "Those students can test at the end of the year and then colleges will grant credit for those individual courses, just like they would for an AP exam. For many students that college credit is the motivation to take IB courses, but only full diploma candidates receive an IB diploma."
Social Sciences teacher Matthew MacLeod says his DP world religions class wouldn't have been possible without these course students.
"One of the things kids need to understand is you don't need to be in the DP to take individual DP classes," said MacLeod. "I have sixty four kids in my world religions classes and only nine are actually full DP candidates. Fifty five of my students were just really interested in world religions and without IB they wouldn't have had an opportunity to pursue that."
In the past two years both the number DP candidates and course students has grown to the highest its ever been.
"Right now we have our cohort of full DP candidates, 28 seniors and 30 Juniors," said James. "Before that it was a lot smaller, like half the size. We always projected that when the schools combined we would see a growth in the program. This year we're at thirty candidates, whereas the year before we were at twelve. The other thing that we've seen is the number of course students is through the roof. I think one of the things that appeals to students is the varied assessment. They have four elements that make up their score of that class and I think that that is a factor in the growth we've seen."
Ossenmacher echoed the same sentiment as she reflected on her first year as a DP teacher.
"I started teaching DP english because it was really a matter of being needed. We went from, in the past two years, two Junior IB english sections and two senior sections, both which were relatively small, to five sections of juniors and two very full sections of seniors. Of those sections, only thirty of those students are full candidates, so the course students have really increased too."
The DP has had an impact not only on the students but on educators as well.
"I think the thing that I appreciate more is that creative thought, on the part of the students, and asking questions and not expecting a right and a wrong answer but expecting the students to respond with their perception and support it," said James. "The fact that that's become common is really profound and one of the greatest things I've witnessed in my time as an educator. We are in a place that offers something great for every kind of student and this is just one amazing opportunity of many."
Leave a Comment
About the Contributor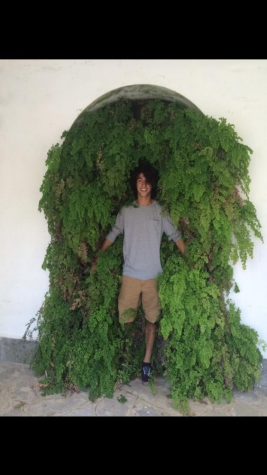 Giancarlo Tucci, Staff Writer
This is my second year on newspaper after my junior year hiatus in Italy. I enjoy nature and travel and aspire to be an expat. I am a part of the Model...