Governor of Virginia's Yearbook Controversy
Hang on for a minute...we're trying to find some more stories you might like.
In the age of the Internet, more and more scandals are coming to light every day. On February 1, 2019, the Virginian Pilot published a photo of Ralph Northam's page in the Eastern Virginia Medical School yearbook. Ralph Northam is the current Governor of Virginia and a Democrat, and the reason that his yearbook page is notable is because the page features a photo of two people: one in a Klu Klux Klan robe, and one with their face painted black, in order to imitate an African-American.
This photo is clearly offensive. Dressing up as a Klu Klux Klan member is inappropriate regardless of the circumstance. Blackface, the act of a white person painting their skin darker in order to appear as if they are black, is a demeaning charade that has been occurring since minstrel shows, a form of comedic entertainment focused around imitating African Americans, in the early 1800s. Blackface is used to make fun of or degrade an entire race, and is considered an unacceptable wrong.
When this photo went public, it faced immediate backlash. Dozens of politicians and other public figures have demanded Northam resign from his position as Governor of Virginia, including Hillary Clinton, James Comey, Joe Biden, and others. However, Governor Northam has refused to step down.
Adding to the intense reaction to this offensive photo is Northam's confusing response. When the photo first began to spread, Northam issued a statement saying, "Earlier today, a website published a photograph of me from my 1984 medical school yearbook in a costume that is clearly racist and offensive. I am deeply sorry for the decision I made to appear as I did in this photo and for the hurt that decision caused then and now." This quote makes it clear that Northam admitted to being in the photo, and others continued to call for his letter of resignation.
But a few days later, Governor Northam held a press conference. During this, he changed his story around completely, clearly stating, "When I was confronted with the images yesterday, I was appalled that they appeared on my page. But I believed then and now that I am not either of the people in that photo."
During an interview with CBS, Northam clarified his swap in position, saying, "When you're in a state of shock like I was, we don't always think as clearly as we should. I will tell you that later that night I had a chance to step back, take a deep breath, look at the picture and said, 'This is not me in the picture.' And I also had a number of friends and classmates from medical school that called and said 'Ralph, that is not you' and that was comforting as well."
Yes, that's right. A few days after his apology and admittance that he was in the photo, Governor Northam changed his story around completely and told reporters at the press conference that after looking at the page more and talking to people who went to medical school with him, he realized that he was not actually the man in the picture. The conference took an even more bizarre turn when Northam shared that he actually had worn blackface once, when participating in a dance competition dressed as Michael Jackson. Northam went into the details of this event, speaking for a while about how difficult it was to get the shoe polish off his face, almost demonstrating the moonwalk in front of the reporters, and overall skirting around the actual seriousness of the issue at hand.
Clearly, there is a lot of confusion surrounding this offensive photograph. While no one is truly sure whether or not Governor Northam is one of the people in the picture, it is obvious that he used blackface at least once in his life. There are still calls for Northam's resignation, although he seems to be holding his ground for now.
While the future is unclear for Governor Northam, this story can serve as a reminder to us all to be extra thoughtful and careful in what we do or say.  Countless negative stories from the pasts of public figures have been uncovered recently. The photo on Governor Northam's yearbook page is just another example of the way that the Internet can reveal acts that were never meant to be broadcast to the whole country. While it can seem like this is a problem that uniquely plagues figures in the public eye, the exposing of secrets on the Internet is something that can affect high school students too. Colleges, future employers, and more are all on the Internet and can easily find information that isn't meant to be shared with them.
In the age of the Web, everything you've ever done can be shared publicly and change your life in a second. Northam's story should remind everyone of this fact and that being thoughtful in what you do and say is absolutely vital to daily life in the 21st century.
About the Contributors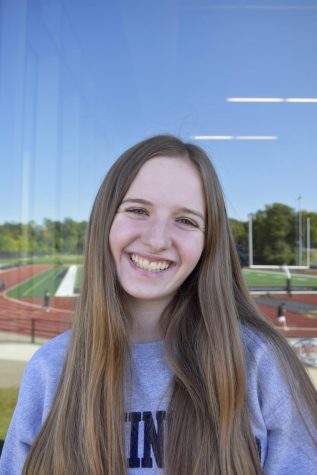 Darby Krugel, Editor-in-Chief
Hi, my name is Darby and I am an Editor-in-Chief on The Hawkeye. I am a senior and this is my 3rd year on staff. Outside of The Hawkeye, I am part of BBYO,...