New Baskin Robbins/ Dunkin' Donuts – The Perfect Dessert Destination
My mom's favorite ice cream place has always been Baskin Robbins, and after so many visits with her, I fell in love too. When I heard that a new Baskin Robbins/Dunkin Donuts combo was opening close to me, I was ecstatic and couldn't wait to go try it.
The store, that includes both a Baskin Robbins and a Dunkin Donuts, is located on Orchard Lake Road in Keego Harbor. It is open from 6 A.M. to 11 P.M. every day.
When I first walked in, I was greeted by bright lighting and vibrant pink, orange, and blue decor. The wall in front of me had rows upon rows of delicious looking donuts and signs advertising many kinds of coffee. When I turned to my left, I saw a typical Baskin Robbins ice cream counter, complete with 31 different flavors.
While I love Dunkin Donuts, I had become excited about this place because of the Baskin Robbins, so I chose to get my dessert there. I looked up and down the counter, and inspected the signs describing the different ice cream flavors. There were classic Baskin Robbins flavors, such as Peanut Butter n' Chocolate and Icing on the Cake, and also new kinds that I had never seen before. I chose to taste one of these flavors, called Cannoli Be With You. It was a mascarpone-flavored ice cream with chocolate chips, cannoli shell pieces, and pistachios mixed in.
A friendly worker gave me a sample in a tiny pink spoon. I thought it was delicious, and ordered one scoop of this. I received my ice cream and was sent to the cash register at the Dunkin Donuts counter. A pleasant cashier rang me up quickly, and I went to sit down.
At the side of the building, next to the counters selling the food, there is a large seating area. It includes many different sizes of chairs, tables, and booths, all colored pink and orange. All of the places to sit looked clean and comfortable. There were a couple of TVs on the wall, which I glanced at as I ate.
The store also has other interesting features. It includes a drive through, conference rooms, a freezer containing ice cream cakes, and a table where you can buy Dunkin Donuts coffee for your Keurig.
Overall, I thought that the new Baskin Robbins/Dunkin Donuts was a great dessert place that I will definitely visit next time I want a treat!
About the Writer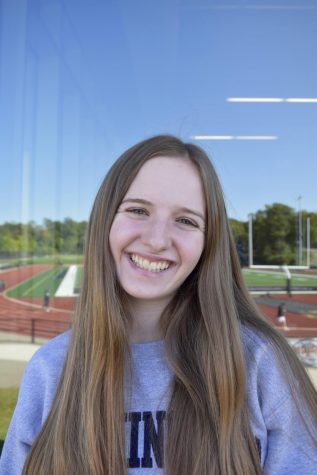 Darby Krugel, Editor-in-Chief
Hi, my name is Darby and I am an Editor-in-Chief on The Hawkeye. I am a senior and this is my 3rd year on staff. Outside of The Hawkeye, I am part of BBYO,...