From Coast to Coast, the NBA Season is Underway
Deeeeetriot Basketballlllll. The revitalized Pistons lineup is off and running after an exciting offseason. The Pistons started off with a loss with not having a 1st round pick, as it was one of the pieces traded to the Los Angeles Clippers in order to acquire superstar Blake Griffin. However, the team still made a splash, firing their head coach Stan Van Gundy and hiring reigning NBA Coach of The Year Dwane Casey, formerly the Toronto Raptors.
"The team is well put together as far as the talent level is concerned," Casey said. "It's right there as far as making a jump. It's a process to get there and when we get there, I don't want our guys to be satisfied with just making the playoffs. We want to get in and do some damage. Not only get to the playoffs, but get in there and advance."
Using their brand new lineup, the Pistons got off to hot winning-streak going 4-0. But, the squad as since cooled off, as they're now 5-5, which has earned them the 7th spot in the Eastern Conference. Lead by a star-studded front court of Blake Griffin and Andre Drummond, this Pistons team is on the path to returning to the NBA finals. Coming up, they play the Miami Heat in their new home in downtown Detroit, and then have a road trip to take on the Orlando Magic and the Atlanta Heat.
The NBA season is going as expected so far. The reigning champions, the Golden State Warriors, are 10-1 after obtaining all-star center Demarcus Cousins to add on to their historic team. In the East, the Toronto Raptors are 11-1, coming off of an offseason where they swapped superstars with the San Antonio Spurs and gained Kawhi Leonard. The Los Angeles Lakers, now led by Lebron James, have gotten off to an uninspiring start as they are 5-6 through their first few games. "We got to figure it out. It is not one guy. We are all in this together, so, we gotta figure it out. We can't keep having the same mistakes over and over. You probably don't want to be around when my patience runs out, I'm serious," said James.
The first month of the season has had no shortage of drama. Minnesota Timberwolves star Jimmy Butler has refused to play for the T-Wolves, after an offseason scuffle with the front office, yelling vulgar comments during practice. In Hollywood, the spotlights shined bright on the LA Lakers vs Houston Rockets game. Lakers Point Guard Rajon Rondo allegedly spit in star Point Guard Chris Paul's face. This came after a hard foul by Laker forward Brandon Ingram, which caused James Harden to shove the hotshot out of Duke. Eventually, a whole slew of players were pushing and throwing hands.
Overall, in the Motor City and in the rest of the league, the new season is off to an exciting start, and there's no end in site.
Leave a Comment
About the Contributor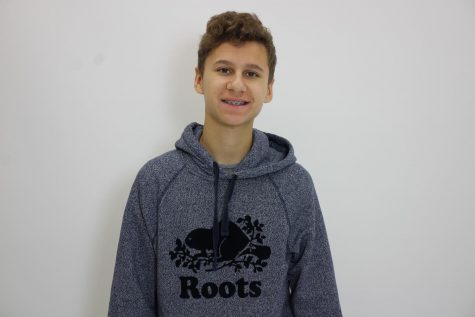 Gabe Singer, Guest Writer
Hi, my name is  Gabe Singe and I am a Guest Writer on the Hawkeye newspaper. I am a Sophomore this year and this is my 1st year on staff. Outside of...