Azza's Koshary Brings New Light to the Egyptian Kosher Palate
Although it may seem like an unnoticeable restaurant in Troy, Azza's Koshary offers a great variety of Middle Eastern food that will heighten your palate to new and unique flavors. It was opened three months ago, in August, by owners Ismail Boussi and his wife, Azza Ahmed. Boussi is Lebanese and Ahmed is Egyptian. Boussi named the restaurant after her, which is the reason for having Egyptian Koshary as the star dish.
Before Boussi opened the new and exciting place, he worked for the son of the owner of Leo's Coney Island and has worked in the business for more than 30 years. Boussi and Ahmed renovated the place and made it look very nice.
My parents and I drove out to Azza's Koshary for a wonderful meal. We were not disappointed at all. It was a small, homey restaurant that had radiant light-orangey walls, which made us feel like we were in someone's house for dinner. Also, the hospitality and service were excellent.
Even though the food was a little pricey, it was exquisite with bursting juices and spices from all the fresh meat and vegetables.
One of my favorites that we ordered was their signature dish: Egyptian Koshary, which was absolutely stunningly made with a unique mix of ingredients. It had rice, lentils, macaroni, onions, garlic, and spices that surprised me, but in a good way.
Aside from that dish, we each ordered a main dish that first came with a soup. I ordered hummus topped with chicken gallaba served with a bowl of chicken lemon rice soup. This soup is one of my favorites, and they truly outdid themselves. The lemon flavor added was not too citrusy, as I've tried in the past. Even though the hummus topped with chicken gallaba was a huge portion, I enjoyed every single bite of it, and still did after I took it home and ate the leftovers. The chicken was very nice and tender, the vegetables were cooked well, and to top it all off, the creamy hummus flavored the dish even more.
Moreover, for dessert, we ordered baklava that were 77 cents each, but Ismail said "they're on the house." Indeed a very kind gesture.  
Overall, Azza's Koshary is a wonderful restaurant with amazing food, service and hospitality that I guarantee will not make you regret going there. Take your family or friends to enjoy a delightful dinner!
Leave a Comment
About the Contributor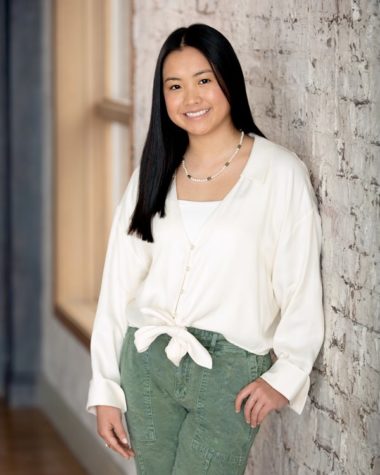 Sonya Barlow, Photography Manager
Hi, my name is Sonya Barlow and I am the Photography Manager for The Hawkeye. I am in my senior year and this is my third year on staff. Outside of the...