Kaku Brings Familiar Face to Birmingham
Kaku Poke and Sushi on Long Lake is one of my favorite restaurants. Whenever I am asked what I would like for dinner, Kaku is the first word out of my mouth. When I heard that a second Kaku location would be opening in downtown Birmingham, I was ecstatic. My favorite restaurant in one of my favorite areas? Yes, please!
Kaku is a restaurant that serves sushi and poke, which is a native Hawaiian dish traditionally made with raw tuna, but Kaku offers different seafood, veggies, and more as mix-ins. It is open from 11:30 a.m. to 9 p.m. on Monday through Saturday, and 11:30 a.m. to 8 p.m. on Sunday. Prices range from about $5 to $25.
At Kaku, you have the choice to order sushi, where you can choose a pre-selected sampling or mix and match the types you want, or poke, where you can pick between creating a bowl yourself or trying one of their pre-designed options.
When I walked up to Kaku's storefront, I was immediately impressed. Located in the heart of downtown Birmingham on Old Woodward Avenue, Kaku's clean, floor-to-ceiling glass windows stood out right away. I walked inside, and was not disappointed. I appreciated the minimalist decor, with a glass panel blocking off a small but eye-catching seating area.
My server took me down the line with a smile, quickly and politely adding whatever I wanted to my bowl. The options were about the same as at the original location, and I followed my usual order: a poke bowl with brown rice, quinoa, shiso, salmon, edamame, seaweed, garlic ponzu sauce, scallion, crispy onion, and sesame seeds.
I was rung up efficiently, and kindly offered a free cup of water. I sat down at a small table with stylish white chairs. I was excited by the cute teapot-like soy sauce containers on my table, and then began to eat.
My eagerness to try this Kaku location was immediately justified. I ate my bowl in minutes, shoveling in every bite I could. Every ingredient I chose was added in just the perfect proportions and came together in the incredible Kaku taste that I know and love. However, my bowl did not taste exactly the same as what I was used to. The salmon was a bit softer than at the Bloomfield Hills location, which ended up contributing to a different taste: not better or worse, just different. In fact, I enjoy the fact that the food at these locations don't taste exactly the same, because I can vary my delicious Kaku experiences without giving up my typical order.
Overall, this Birmingham location of Kaku lived up to my every expectation, and I give it five out of five stars. I am glad to have another opportunity to taste the poke bowls that I love, no matter where I am in Metro Detroit. Next time you're in Birmingham, I highly recommend that you give Kaku a try.
About the Contributor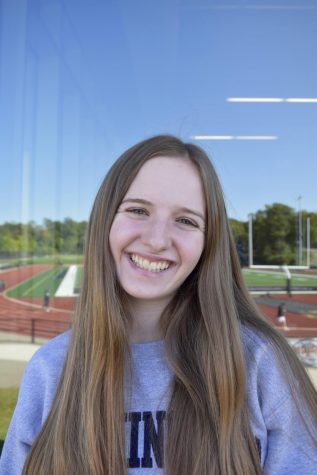 Darby Krugel, Editor-in-Chief
Hi, my name is Darby and I am an Editor-in-Chief on The Hawkeye. I am a senior and this is my 3rd year on staff. Outside of The Hawkeye, I am part of BBYO,...