Bloomfield Students Attend Michigan Thespian Festival
On December 14 and 15, 26 theatre students from Bloomfield Hills High School attended the Michigan Thespian Festival. This Festival is known as the largest annual theatre event in the state and was held at DeVos Place in Grand Rapids.
The Festival attracts tons of theater lovers, and this year 1,500 high school students from all over Michigan were in attendance.
"(At the festival), you get to interact with a lot of people that do what you do. What's nice about it is that it's such a small community within our school, and it seems so large when you go there," said senior Connor Renusch. "(The festival) takes all of the small communities and combines them into one large one. That's sort of neat."
At this Festival, the students participated in performances, workshops, auditions, and more. They showed off their talent, and were rewarded. There were six students who received superior ratings for their performances- Ava Meyer, Mollie Menuck, Chris Mulville, Claire Spender, Connor Renusch, and Corinne Peterson- and two who received excellent- Joey Rankin and Anna Partalis.
A special award was given to Connor Renusch, whose short film "Sober" was selected to compete nationally in June.
"It was great," Renusch said about this honor. "It's nice to see your name scroll up there, because they put you on a big screen and have everyone's name that hits the top two rankings scroll through, and it's a great feeling. It's nice to know that what you've done is being rewarded."
Another special moment occurred for another member of the Bloomfield Hills troupe, senior Ava Meyer, as she got to sing during the closing ceremonies of the festival in front of 1,600 people.
"[Each] teacher can submit one person from your troupe to possibly be selected to go to the showcase. I was selected to do that and that was pretty cool," said Meyer. "It was huge. I don't think I've ever performed for an audience that big, and it's the closing ceremonies at the end of the conference. [It also] was my last conference, so it was really nice to get to do that."
While the potential for recognition and awards is exciting, both Meyer and Renusch agreed that it was the community that makes the Michigan Thespian Festival impactful.
"It is great to see everyone really pursuing what they want to do in one collective area, and to have people succeed within that and see all their reactions," said Renusch. "It's nice to see all of the talent we have just in this one area."
Meyer echoed this statement, saying, "I've gone all four years and I see a lot of performances. I think the best thing to learn from seeing different schools, and different people, and theater from different places, is that everyone has something special to bring to the table, and everyone is working just as hard as each other. It's important just to appreciate the artists around to help you make your art better."
Leave a Comment
About the Contributor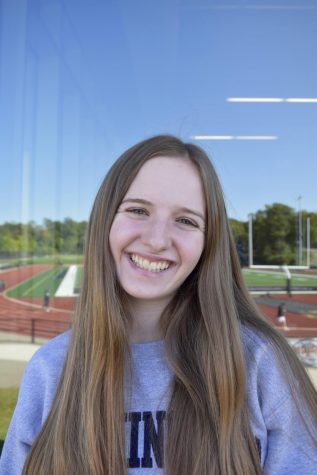 Darby Krugel, Editor-in-Chief
Hi, my name is Darby and I am an Editor-in-Chief on The Hawkeye. I am a senior and this is my 3rd year on staff. Outside of The Hawkeye, I am part of BBYO,...