Sandy Hook Promise Releases PSA on School Safety
The Sandy Hook Promise, a nonprofit founded by parents of the victims of the 2012 Sandy Hook Elementary School shooting, released a PSA on September 17  that intends to raise awareness about the risk of future mass shootings. 
Since the Columbine High School school shooting in 1999, more than 228,000 students have personally experienced a school shooting. 
"Many students fear that it's only a matter of when, not if, a shooting will erupt on their school campus," stated Sandy Hook Promise. 
The nonprofit has been releasing PSAs every year, including "Evan" and "Point of View" to further bring awareness to the topic. This year, the organization released a PSA entitled, "Back to School Essentials," which features students showing off their new school supplies. Within the one minute video, the innocence of basic school accessories – a skateboard, new jacket, cell phone, colored pencils – and the lighthearted tone of students turns dark as it shows how the school supplies can be used to protect themselves from a school shooter. 
Since the first mass school shooting at Columbine High School, districts across the country are preparing students and staff for the unexpected with active shooter drills, practice lockdowns, and specific materials that safely prevent doors and windows from being able to be opened. 
"Well, I think the [practice drills] are very important. However, I think our emergency response is hard to practice in these situations," said Bloomfield Hills school liaison officer, David VanKerckhove.
The Sandy Hook Promise reports that this year's PSA is different from previous years because it reveals the "new normal and stress that students face on a daily basis." 
"I think that video is great because it is a shock value, but it's reality. And reality is even worse than what is on that video," said VanKerckhove." The practices are fine, but I think that the discussions are really important to have with the students on where to go, how to fight, how to hide, and having those discussions at home too."
The PSA seeks to bring more awareness to the fact that the statistics of mass shootings are rising. Through the release of the video and their website, the Sandy Hook Promise states that they hope viewers make a promise to understand and share the message of the dangers of shootings and how they affect our community.  
"I feel as if we have been screaming this message to people since before Parkland and even with the large movement, we are still only seeing small improvements in some places," said Bloomfield Hills High School student, Lucas Little. "We need to make it impossible for politicians to ignore us and call out the organizations that pay them to not protect our safety. All in all, we really are just asking us to [safely] go to the movies, school, malls, restaurants, work, or anywhere in this country."
Nicole Hockley, mother of six year old victim Dylan Hockley  and co-founder of Sandy Hook Promise states on the website, "Gone are the days of viewing back-to-school as just a carefree time when school violence has become so prevalent. However, if we come together to know the signs, this doesn't have to be the case. I hope that parents across the country will join me to make the promise to stop this epidemic."
Leave a Comment
About the Contributor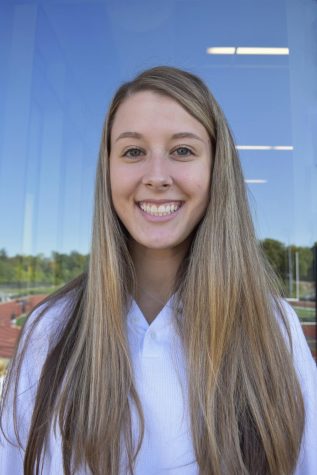 Kaitlyn Keele, Section Editor
Hi, my name is Kaitlyn Keele and I am a News Editor on The Hawkeye. I am a senior and this is also my second year on staff. Outside of The Hawkeye, I am...