Reviewing Werewolf by Night
A dive into the spooky side of Marvel 4.5/5 Stars
  Marvel is really popular. In fact, Marvel possesses $38 billion worth of popularity; every nose-picking kid and their parents know and love Iron Man, Hulk, and Spider-Man. But what about Man-Thing, Elsa Bloodstone, and Jack Rusell? Well, Werewolf by Night on Disney+ acts as a brilliant and artistic introduction to these three characters, greatly expanding the Marvel Universe in the process.
   Werewolf by Night focuses on a group of monster hunters who, after the death of the famous monster hunter Ulysses Bloodstone, are summoned to the Bloodstone Manor to compete for the ownership of the 'Bloodstone,' a powerful McGuffin (a plot device). Hijinks ensue and Elsa Bloodstone, the estranged daughter of Ulysses, must team up with the mysterious and theatrical Jack Rusell in an attempt to obtain the 'Bloodstone' and save a mysterious creature.
   The cast includes Gael García Bernal as Jack and Laura Donelly as Elsa. The actors do a fantastic job, really getting you to care about the characters over a short period of time.
   Michael Giacchino is credited in his first role as a director. Giacchino is known for composing legendary scores for films such as Jojo Rabbit, the recent Star Trek movie, eight Pixar films including the Incredibles and Coco and much more, but has never directed a feature until now, and it doesn't show at all; the film is very well made.
   One immediately noticeable aspect of the film is its monochromatic color palette, inspired by classic Universal monster flicks such as Dracula and The Mummy. This can also be seen in other aspects of the visual style such as the grainy quality and the goofy practical effects. 
   All the scenes are expertly shot and clearly envisioned in a very specific way; the film has an intended tone and style and sticks to it very well. Although it isn't particularly scary, the classic horror aesthetic adds a layer of complexity and helps draw the audience in early.
   Simply put, Werewolf by Night is the most original Marvel project since Iron Man; the unique directing style is commendable and will hopefully influence other Marvel properties going forward.
Leave a Comment
About the Contributor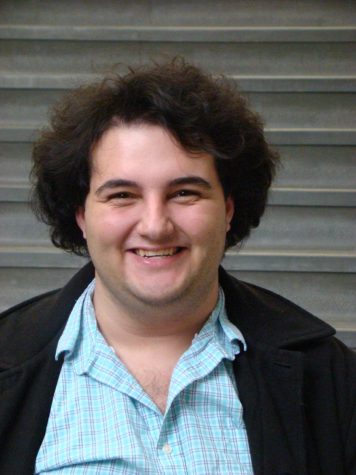 Tyler Richmond, Feature Editor
Hey there! My name is Tyler and I'm currently the feature editor for The Hawkeye. I'm in my senior year and this is my second year on the Hawkeye staff....