BHHS Hosts Club Grams Galore
As Valentine's day approaches, clubs and organizations are looking to delivering Grams in order to earn money for various causes.
"I think the reason a lot of clubs are hosting grams around this time is because February is such a significant month," said Latino Student Alliance (LSA) president Jackie Garcia. "Since it's Black History Month and also when a lot of important days take place like Valentine's Day, Chinese New Year and The Dance, everyone has reasons to purchase grams."
Since February is home to such a diverse set of dates dates, each Grams fundraiser is entirely different and supports a variety of causes. Ally Heath, co-president of Tri-M (Music Honors Society), shared how their Music Grams will work and where the funds will go.
"We [will] sell our grams for one week in the cafeteria. Students can pick songs and buy them for three to five dollars and pick a person to send it to," said Heath. "The person they choose will get serenaded and receive a rose, and all the money earned goes to support Whitman Elementary School in Pontiac."
Garcia, who is running a similar fundraiser, explained that LSA chose Flower Grams because of "the appeal that it has to students."
"LSA is selling flower grams during all lunches the week before The Dance to raise money for Puerto Rico's restoration," said Garcia. "Grams are really appealing to the student body because they offer a good [deed], a delivery, and a cheap price all in one."
Habitat for Humanity president Ahree Hong, who is running Candy Grams to raise money for the Habitat for Humanity organization, shared Garcia's thoughts on why she chose grams over other potential fundraisers.
"Habitat for Humanity is selling candy hearts, chocolate hearts and heart lollipops during all lunches the week before Valentine's day," said Hong. "We chose to do Candy Grams because we believed the concept of delivering candies and messages would appeal to the student body."
Despite all occurring during the same month, Habitat for Humanity advisor Phillip Laliberte gave insight as to why he thinks grams will be successful nonetheless.
"Grams seem to be a fundraiser that the student body supports really well. They have a track record of raising significant funds for many worthy causes," said Laliberte. "Although the market for grams has become saturated, I feel that there is room for all clubs to partake and still find success."
About the Writer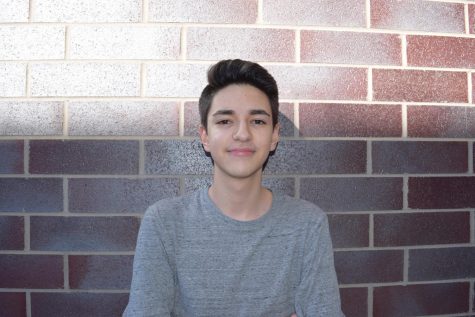 Andres Quiroga-Elizondo, Staff Writer
​Hi, my name is Andres Quiroga-Elizondo, and I am a first year staff writer on the Hawkeye. I enjoy art, music, writing, and spending time with my friends....