Prepare to accelerate
Physics students head to Cedar Point
Earlier this week on Monday, May 15, all physics students had the opportunity to attend a field trip to the amusement park Cedar Point. This field trip is an annual tradition that is organized by the only BHHS physics teacher—Mr. Mikolajczak, better known as "MJ" in the halls of the hills. There are three levels of physics that MJ currently runs: Physics of the Universe, AP Physics 1, and AP Physics C. Students from all classes were brought together for the Cedar Point trip, sharing in their mutual experience of learning physics throughout the school year. In order to attend, students needed to pay a fee that covered the Cedar Point ticket, transportation, and a physics-themed T-shirt.
The field trip took place shortly after AP exam season earlier this May, in which students demonstrated their knowledge through an intensive, cumulative test. Students enrolled in either of the AP physics courses have been preparing since September in order to receive college credit. After their hard work, MJ rewarded the students through this field trip that serves as a much-needed break from their academics.
Senior Jennifer Guan takes AP Physics 1, and she commented, "The trip was awesome! I'm very glad I had the opportunity to travel to Cedar Point as we bonded over the rides we went on and gave each other suggestions for what rides we had to try out."
Located in Sandusky, Ohio, Cedar Point is one of the largest amusement parks in the world. It takes roughly two hours to travel by car from Bloomfield Hills to Sandusky. The park features 17 roller coasters and it attracts millions of visitors every year.
"My favorite ride was definitely the Gatekeeper because it was a short but exhilarating ride," added Guan. "But, I did get to ride Magnum XL with our physics teacher, Mr. Mikolajczak, which made that ride special."
Although the main purpose of the trip was to enjoy the experience and build a sense of community, students also had to complete a packet of physics questions related to the rides. The questions were tied to concepts that the physics students had been exploring all year in class.
Guan explained, "It was crazy to see how certain rides worked and how far we've come as physics students to be able to do these problems."
Many of the students enrolled in physics, especially those at the AP level, are graduating next week. The field trip to Cedar Trip is the seniors' final major experience with their respective physics classes. During the trip, students were able to apply their physics knowledge outside of the classroom while simultaneously enjoying all that Cedar Point has to offer.
Leave a Comment
About the Contributor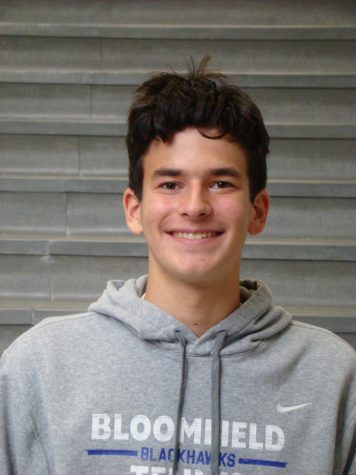 Benjamin Saperstein, News Editor
Hi, my name is Ben Saperstein and I am the news editor for The Hawkeye. I am in my junior year and this is my 2nd year on staff. Outside of the Hawkeye...