Students Prepare to Present MYP Personal Projects
  As the adjudication date for the Middle Years Program personal project rapidly approaches, the sophomore students prepare for their presentations. The program concludes in 10th grade, and in order to graduate from the program, all sophomore students must complete this project.
  While the date grows closer, the students are experiencing last minute nerves, according to sophomore Chloe Fischer, "Due to the fact that the adjudication date is so close, I have become extremely stressed. I find it necessary to ensure that my project is complete and organized in all ways," said Fischer.
Project ideas can be anything students desire and they are generally based off of a particular passion, individual to each students' personality.
Fischer decided to utilize her love for community service combined with her interest in sewing to make dresses to donate to children in Africa. She collects fabric and stitches it together creating unique designs, "I went online and I found the patterns I wanted to make. So far I have made about six dresses and it feels very rewarding to have accomplished something that helps a great amount of children who do not have the opportunity to get new clothing," said Fischer. "I feel very accomplished knowing that I can do something that makes a change in the world."
  Fischer donates her dresses to an organization called Little Dresses For Africa, in Flint, MI which then sends the dresses to the children in Africa.
As a result of the research she has conducted, Fischer's project has helped her to observe the world from a new perspective, "This experience has taught me that it doesn't take much work to make a huge difference in the world, and that one small thing can have a large effect. The personal project also made me change the way I see the world because I now am more cognizant as to what goes on in places other than my little bubble."
  However, unlike Fischer, many students may struggle when it comes to picking their project idea and focusing on one particular subject in depth. Discovering a topic can be quite difficult according to sophomore Dominic Curti, who explains at first he was "really lost" when trying to decide on his topic.
  "I heard ideas around school of people recreating something in a video game, and I thought that was a really cool idea. So I added my own twist to it," said Curti. "I wanted to make the athletic part of the high school in a video game. I focused on athletics because I love sports so I knew that I would enjoy building that part the most."
  To devise his project, Curti explained that he utilized his interest in computer software and applied this passion to his personal project, "This is really why the project was so enjoyable for me. I am excited to present my project because I really put effort and time into making the recreation look as identical to the school as possible," said Curti. "I grew up loving technology, and I still do today. The more that I improve my skills in technology, the more knowledgeable I will be."
  Improvement in knowledge is exactly what the Middle Years Program personal project aims to accomplish.
  According to sophomore Lexie Finkelstein the knowledge she gained is also rewarding and has allowed her to grow as a person. Finkelstein sold handmade bracelets for $5.00 each and donated the profits to children's hospitals. Additionally, a matching bracelet to the one sold was also donated to a child with cancer.
  "I combined my interest in medical studies and helping those in the hospital with my love for jewelry making to bring up the idea of 'Project 1:2,'" said Finkelstein. "I've learned of the true need of love and support for those in need as well as through everyone's day to day life. It's great to watch communities come together to be able to make this sort of impact."
  Additionally, Finkelstein explains that the "main goal of the project was to bring love and inspiration to the families and children receiving the bracelets and notes," said Finkelstein. "It feels wonderful to know that a child in the hospital is able to look down at their bracelet and smile knowing someone in the community is supporting them and is rooting for their recovery."
Leave a Comment
About the Contributor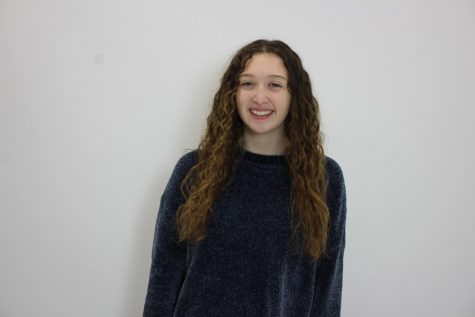 Ava Singer, Staff Writer
Hi, my name is Ava Singer and I am a Staff Writer on the Hawkeye newspaper. I am a senior and this is my 2nd year on staff. Outside of the Hawkeye, I...