Women Win Big at 61st Grammy Awards
You might be asking, what is the deal with awards show season? It's the first few months of the new year in which the movie and music industries recognize notable figures for their accolades. Switching on the television during awards show season always excites me more than it should, especially when I know the Grammys will be on that night. To my personal advantage, the 61st Grammy Awards is broadcasted on national television, and the dress code is always: Dress to Impress. Seeing the bold, eccentric, glamorous looks on the red carpet will never get old. Most people look forward to this element of the awards show more than seeing which attendees will become winners at the end of the night. But let's be real, even if you're simply attending an awards show like the Grammys, you're already a winner.
The 61st Grammy Awards took place in early February and some unprecedented things occurred. Alicia Keys, who was the official host,  was joined on stage by Lady Gaga, Jennifer Lopez, Jada Pinkett Smith, and shockingly ex-First Lady Michelle Obama. Obama's brief speech was nothing less than iconic, combined with the fact that her appearance was a surprise made the overall event that much more unforgettable. Her speech reinforced the message of the Grammys, a night to celebrate music from various artists.
Year after year, we see talent-inspired performances by a variety of musicians; this year we had performances by Cardi B, Shawn Mendes, Miley Cyrus, Kacey Musgraves, Post Malone, Diana Ross, Dolly Parton and much more. My favorite performance was the tribute made to the queen of country music herself, Dolly Parton. I thought this performance was worthy of a standing ovation, and so did the audience.
Awards, awards, awards… this year's Grammy Awards saw a higher number of female winners than in the past. Personally, I had mixed emotions about what happened. I was glad that the female artists were being represented fairly, on the other hand, I believe that this change from last year is long overdue. Some of the most notable included: Cardi B for Best Rap Album, Kacey Musgraves for Best Album of the Year, Dua Lipa for Best New Artist, Lady Gaga for Best Pop Solo Performance, Ariana Grande for Best Pop Vocal Album, H.E.R for Best R&B performance and more.
This contrasted with last year's opening when male acts dominated the nominations, and there were barely any female winners. The strong presence of women in substantial categories coincides with the growing support for the #MeToo and #Time'sUp movements. Last year after a lack of female winners and nominees, Neil Portnow, who is the CEO of the Recording Academy, spoke about this trend. He simply stated that women needed to "step up" and he was later criticized and referred to his statement as a "poor choice of words". Moving forward, Portnow enforced a task force to forming the selection of nominees to be more inclusive and diverse.
It is presumptuous to me that the biggest decision makers of the distribution of professional music awards fall in the hands of people who couldn't recognize the issue staring them straight in the face. The point is that misjudged phrasing should not be the factor in realizing the bigness of an issue like sexism in the music and movie industries.
As Dua Lipa stepped on stage this year to make her acceptance speech, she alluded to Portnow's words and said, "I guess this year we really stepped up".  Lipa made a bold move including this subtle shade during her speech, but her motivation to include this statement would have been the same, if I was in her position.
As a young woman witnessing this influential change from last year's demographic of Grammy winners, I am anticipating more changes in the future. Not just in the music and movie industries, but in every wake of life. WE CAN DO IT!
Leave a Comment
About the Contributor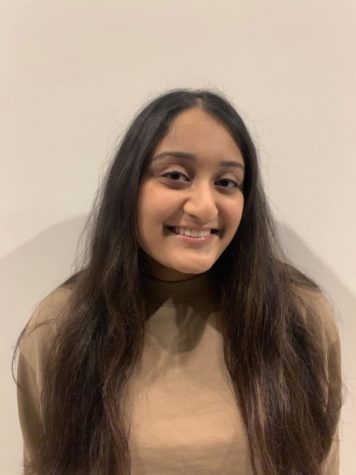 Sanju Swamy, Managing Editor - Web
Hello, my name is Sanju Swamy and I am one of the managing editors for The Hawkeye. I am in my senior year and this is my third year on staff. Outside...