More than just a free skate
Donovan Carrillo's Olympic debut was exactly what the next generation of Latino athletes needed to see
Growing up Mexican American, positive representation was rare for me.
   The people who shared my heritage were all too often represented as marijuana dealers, burn-outs, people taking drugs across the border, and kids crying in cages. I rarely saw myself represented in art, literature, music, and sports, with the exception of baseball. When I saw Donovan Carrillo—the first Mexican figure skater to ever advance to the Olympic free skate—step onto the ice for his free skate, I knew that a part of my childhood hopes were becoming more realistic as I saw myself represented through Carrillo's skating.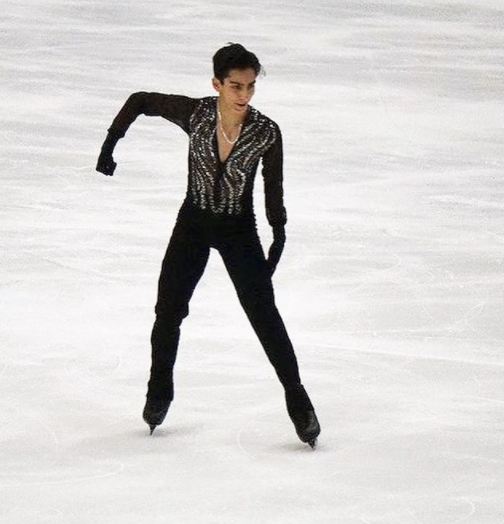 Although Carrillo did not earn a medal, finishing 22nd in Men's Figure Skating overall, he changed the tide for so many children of color, particularly Mexican and Mexican American children. As much as I appreciate the increased level of diversity in children's books, shows, and movies that we've seen in the past few years, this fictional diversity doesn't replace having your identity represented in real life. Growing up, I remember reading dozens of books with Mexican protagonists with my mom before bed, but the empowerment I felt from reading stories with Mexican protagonists pales in comparison to seeing an internationally successful Mexican person in real life. 
   The truth is that children are observant; they notice patterns, and they notice when Olympic sports are dominated by white athletes. The figure skating world has made tremendous progress in making the sport more accessible and welcoming to Asian Americans, with Nathan Chen setting the world record for highest short program score at the Beijing Olympics, and this needs to be extended to other athletes of color. 
Carrillo was the only Olympic competitor to represent a Latin American country at all in the free skate, and in order to get there, he had to surpass a variety of challenges. Carrillo trained at a rink in a mall and even moved away from his family to achieve his Olympic dream. While this is an inspirational story, it is also a reminder of the many obstacles and setbacks that Latin American figure skaters face and an illustration to the figure skating world as a whole that the sport must be made more accessible to a variety of countries.
   Although Carrillo was the only Mexican competitor, he dedicated his performance to his country, honoring those who will come after him. When Carrillo stepped off the ice after his program, he said "Por mi familia y por todo México (For my family and for all of Mexico)". But to me and many other Latino children and teenagers, his program and presence on Olympic ice felt dedicated directly to us. Donovan Carrillo is exactly what I needed when I grew up, and I'm so grateful that he will get to be this for younger Latino youth.
Leave a Comment
About the Contributor
Callisto Martinez, Copy Editor
Hi, my name is Cal Martinez, and I am the Copy Editor for the Hawkeye. I am in my senior year, and this is my second year on staff. Outside of the Hawkeye,...