Volleyball is an exhilarating sport, with crazy digs, endless rallies, and termination swings. Especially college volleyball. Just over two weeks ago, some of the strongest, most determined, and most competitive teams started their college seasons, on August 25th. With this year's inspiring new class of freshmen taking on the big court, major changes to the game of volleyball have been made. Last year, Wisconsin captured the national championship title of the Big 10 conference, after a hard-fought game over Nebraska, but faced some losses in their senior class. Who will win the national championship this year? 
In this article, I will be rating and reviewing my top 3 favorite volleyball teams in the Big 10 conference, and my insight on who I think will be the reigning champions this year. In each of these schools, we can look for current stats, standout players, and insights (from me!) that you won't hear from anyone else. Enjoy!
Nebraska Volleyball – 8-0 
Nebraska is looking like a strong program this year. With a winning record of 8 wins against some big-name schools like Stanford and Long Beach State, they seem to be a force to be reckoned with. With outstanding team statistics – a hitting percentage of .292 with roughly 13 kills per set – Nebraska is making all other teams run for their money!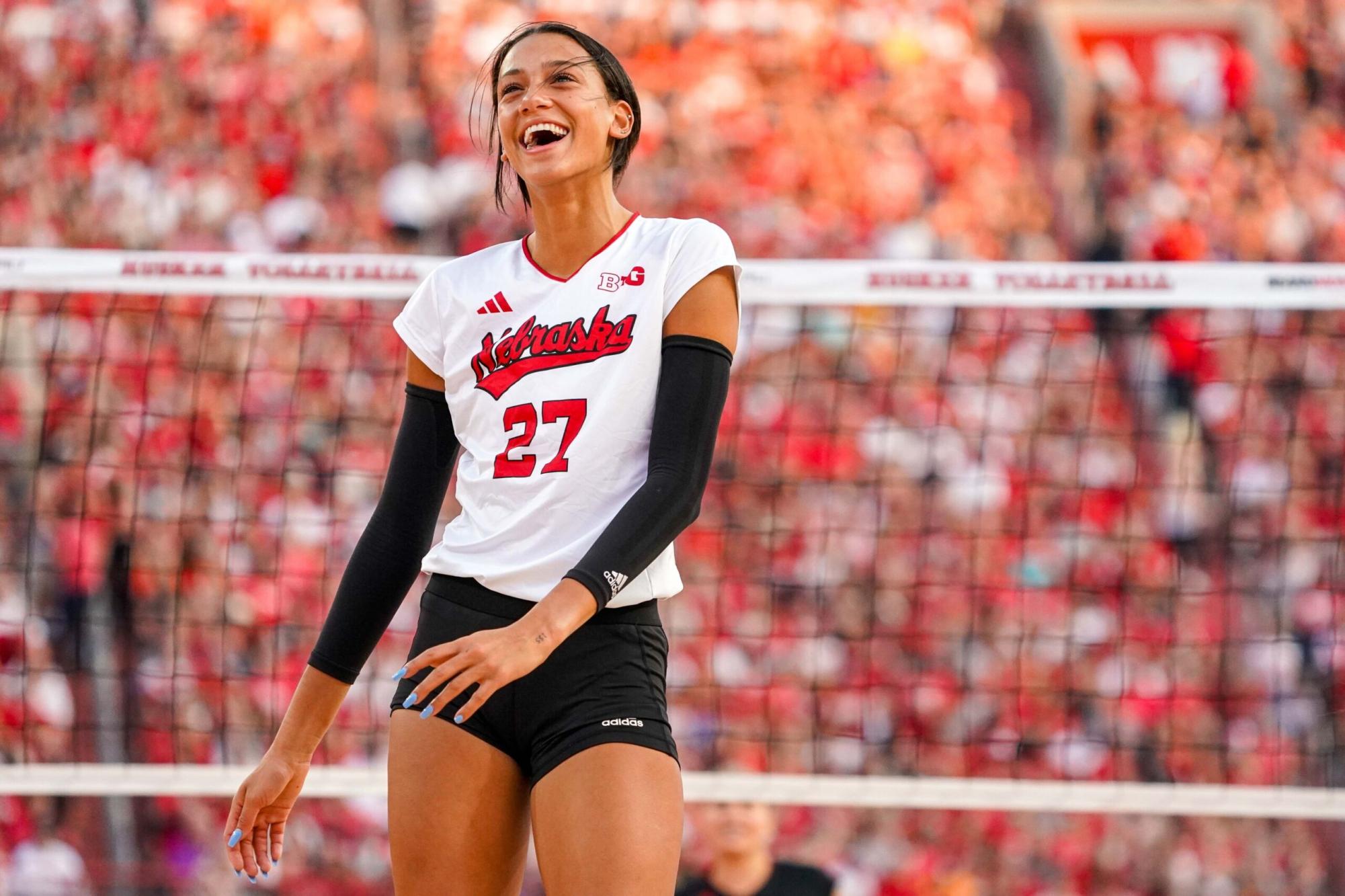 Although this team has no seniors, their underclassmen have been taking names. Harper Murray is an incoming freshman this year, who has already established a strong starting position on the big court as a 6-rotation outside. As one of the players with the higher hitting percentages (.308), this 6'2" freshman from Ann Arbor, Michigan has a huge future in front of her, as she was an Under Armor All-American last year, Miss Volleyball for the state of
 Michigan in 2022. I can't wait to watch her grow throughout this season.
Another standout player on the Nebraska roster is junior libero Lexi Rodriguez. After starting on the team for 3 whole years, she received her 1000th career dig just last week. This speedy libero has been a lifesaver for the team, getting wild touches on insane attacks by some of the strongest hitters in the league. With an average of 3.38 digs per set, I am so excited to see how one of the few upperclassmen on the team can lead the team to future victory. 
Nebraska gained an amazing freshman class: Bergen Riley, Laney Chiboi, Caroline Jurevicius, Andy Jackson, and Harper Murray, who were all selected to play in the Under Armor All-American Game and have played on a USA team internationally last year. Gaining five freshmen, four of whom already start on the court! With a very diverse, skilled, and talented program, I am prepared to watch Nebraska rise to one of the top teams in the Big 10 leagues and potentially even clinch the title for the championship in November.
Although they are ranked lower on the list of all of the schools in the conference, I believe that Purdue has what it takes this year to make a strong impact by the end of the season. With 8 incoming freshmen and a 5-2 record, everyone better watch out for the underdogs. Crushing teams like Duke, Kentucky, and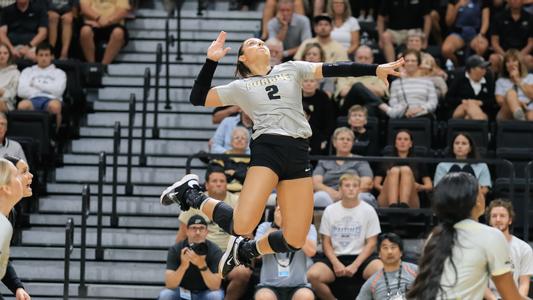 Kansas, I would notice this rising team. With a team-high of 437 digs and 8 incoming freshmen, I am confident that this team will beat some of the best in the league. 
The main standout player that I wanted to feature is Chloe Chicoine. This undersized 5'10" 6-rotation outside from Lafayette, Indiana has made a HUGE impact on her team, and in only 7 games, has over 120 kills! As an undersized hitter, playing in one of the best conferences with players anywhere from 6'2" – 6'7", but you would never know with her stats. In only 7 games, Chicoine has racked up 120 kills, which is the most of her whole team! Chloe makes up for her height in her vertical and her shots, and she is very dynamic in both the front and the back row. Named Under Armor All-American in 2022 and AVCA first-team All-America player, she is ready to make a change in the volleyball world and on her team.
Purdue has a standout lineup with countless valuable players that could quickly put the Boilermakers at the top of the Big 10. With two 5th-year seniors, and 8 incoming freshmen with a total of 13 players, under the leadership of Chloe Chicoine, I see this team making a real impact and making a run for the championship. 
Stanford Volleyball – 6-2 
Although they are ranked just below Nebraska at seed spot number five, Stanford has a solid team. They have a great variety of incoming freshmen and seniors and even have a couple of 5th years proving that they are meant to be a great team this year. After losing to San Diego last year, they have hit the ground running this year, dominating over teams like Texas, Ohio State, and Minnesota, only losing to Florida and Nebraska just the other night. After crushing some of these big-name teams, I believe that Stanford could be a force to be reckoned with this year.
There are two big impact players for Stanford this year, Jordyn Harvey and Julia Blyashov. First of all, Jordyn Harvey is a 6'1" opposite from Salt Lake City,
 Utah who is extremely strong and has an insane vertical. She not only was nominated for the Under Armor All-American Games, but she also won Miss Volleyball for the state of Utah and was an AVCA first-team All-American with Chloe Chicoine. Although she has not gotten that much playing time her freshman year, her hitting percentage is insane! With 33 hitting attempts and 18 kills, she has a hitting percentage of .424, one of the highest on the team. I can't wait to see what Jordyn does next for her team!
Julia Blyashov is a very talented 6'3" outside hitter from California. Like Harvey, she hasn't gotten that much playing time this season so far, but I can't wait to see how she helps the Stanford team. She was an Under Armor All-American, played with the USA team, and much more. Blyashov is a very skilled, agile, and quick-reaction player who can put a great pop on the ball, and has countless shots to aim all over the court.  
Stanford is currently averaging 18.87 kills per set, which is ridiculously high for any college volleyball team, so I believe that they will be a threat to many of the Big 10 teams this season. With only 5 incoming freshmen and 3 graduate players, they will be a well-conditioned scrappy team that will be a threat to Nebraska the next time they play one another.
All in all, I am so excited to see some of the high-intensity games that will occur this year and I can't wait to watch the spectacular freshman class that we have coming into these Big 10 schools just this year! A ton of the players in the new class were my and are my current role models as I continue to grow, Chloe as she is an undersized player who continues to humiliate larger opponents, Harper with her dynamic skill set of playing all 6 rotations, and Jordyn and her hops and her strength. I hope that you were inspired by all of these strong female athletes and that you remember their names as they are certain to be put in the hall of fame or the running for MANY rewards coming up shortly. You should tune in to watch a college volleyball game! They need more of an audience and women's sports need more support and to be recognized for their phenomenal accomplishments.