The Birmingham Roast Brews up a Treat
For the 83% of Americans who drink coffee each morning, only a small percentage have convenient access to the Birmingham Roast, located at 525 East Brown Street, Birmingham. Coffee drinkers along with those in search for a quick, delicious snack are in luck! Students can easily travel the short twelve minute drive from school. At the Birmingham Roast, the service is amazing while the ingredients are fresh, making this new coffee shop worthy of a visit.
The Birmingham Roast is unique in its architecture, sustenances, and service. The Roast offers a modern gold furnish on the walls and ceiling with festive lights aligned as though for decoration rather than illumination. Along the tables stands a glass wall in which customers feel as if they are in open space rather than a compacted, crowded, coffee shop. The coffee is delicious, one of the best cups I have ever gulped down. Although it was $4.00 for my 16Ooz vanilla latte, every penny was worth it. Along with this flavorful, rich latte, I indulged in a "Pumpkin Donut Muffin" which was warmed to perfection and served on a gorgeous wooden platter with a silver fork. The spices of fall surrounded by the pumpkin aroma filled my nose and tingled my tongue. As I took my first bite, the smooth texture of the golden treat soothed my mouth as the intense piquancy of spices settled onto my tastebuds. The fluffy donut muffin was costly, however satisfying as it was not too dense. Finally, the lovely cashier was extremely polite and efficient. Although slightly busy, the wait was not long whatsoever and my order was complete in a matter of seconds.
The Birmingham Roast is pricey, as some sandwiches cost up to $12.00. In contrast, the fresh ingredients, eye pleasing design, and efficiency of the Birmingham Roast create a pleasant experience for customers. If you are looking for a place to get a cup of coffee, Birmingham Roast is the place to go, especially if you're trying to avoid the Starbucks around the corner. Everyone is guaranteed to leave satisfied and rejuvenated.
View Comments(1)
About the Contributor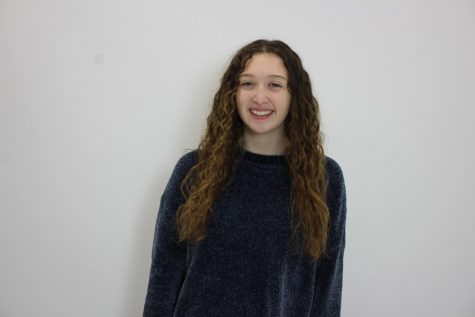 Ava Singer, Staff Writer
Hi, my name is Ava Singer and I am a Staff Writer on the Hawkeye newspaper. I am a senior and this is my 2nd year on staff. Outside of the Hawkeye, I...