UnBaked: a Deliciously Unique Treat
I have driven on Pontiac Trail on my way to dance, several days a week, for the past 14 years. Every time, I have passed Westwind Plaza, a series of buildings on the corner of Pontiac Trail and Haggerty in West Bloomfield. I have seen countless stores and restaurants in this plaza come and go, and watching the latest changes has become almost a tradition during my drive. A new sign appeared one day, advertising UnBaked, "Michigan's First Gourmet Edible Cookie Dough." As a cookie dough lover, I was overjoyed.
My sister followed their Instagram account, @unbakedmi, for weeks, waiting for them to announce their opening day. Finally, it was revealed that UnBaked was opening on November 23, and my sister and I immediately made plans to go the very next day.
When we walked in, my excitement grew to a new level. The counter was organized and expansive with delicious treats spread out for what seemed like miles. Closest to the door was UnBaked's pastry selection, including scones, croissants, and more. Next was the ice cream selection, where I was told that the ice cream is brought in regularly from a family-owned, Michigan-based ice cream company that features unique flavors. I also looked up to the adorable menu board, where right in front of me there was a wide variety of food and drinks listed, including coffee, breakfast sandwiches, and milkshakes.
But finally, once I had admired every other treat on the table, I came to what UnBaked specializes in: their gourmet edible cookie dough. There were nine different flavors on the counter, each one in their own metal container and protected under a sheet of glass, just like an ice cream counter at a place like Cold Stone Creamery. I was told that there are actually over 30 cookie dough flavors, and they rotate nine flavors every day. I was also informed that all of the cookie dough is made with treated flour and pasteurized eggs, so it is completely safe to eat.
The nine flavors on the day I came in ranged greatly, from S'mores to Brownie to Snickerdoodle. My sister and I stared at the counter for several minutes, and the employees were extremely patient and friendly while we tried to decide what to order. Eventually, I chose Oreo Cookies and Cream. I was served a scoop of this cookie dough in a small cup, similar to what you would eat ice cream from. They also had a variety of toppings and differently flavored cones, all of which I hope to explore in the future.
The cookie dough was delicious. It was the ideal consistency, just like the freshly stirred "inedible" dough right out of the bowl when you are making cookies. The Oreos added a perfect amount of chocolate cookie flavor without overpowering the sweetness of the dough. It had this rich, decadent flavor, and I felt a tiny bit nauseous for a few minutes after eating it. However, I feel that this is a small price to pay for an incredible dessert.
Overall, I highly recommend UnBaked and give it 5 out of 5 stars. Their cookie dough is delicious, and the flavors are varied and creative, so I guarantee that you will always find something you love. The workers are friendly and the store is clean and comfortable, if a bit bland. The whole experience of UnBaked is a wonderfully scrumptious one, and I know that I will be a frequent visitor.
Leave a Comment
About the Contributor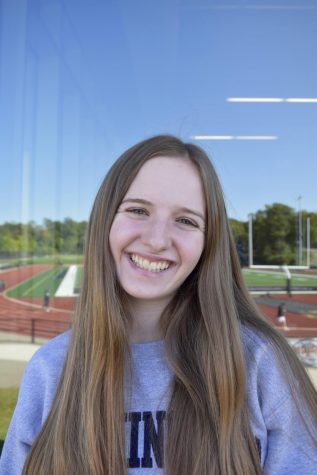 Darby Krugel, Editor-in-Chief
Hi, my name is Darby and I am an Editor-in-Chief on The Hawkeye. I am a senior and this is my 3rd year on staff. Outside of The Hawkeye, I am part of BBYO,...