Are you in France if you go to this Patisserie?
An authentic French Patisserie in Birmingham? What's not to love? This cute patisserie reopened in 2013 in Birmingham closing in 2008, and it's still going strong as it is a favorite of many.  
A talented French baker, Matt Knio, opened Cannelle Patisserie in hopes of bringing the art of French baking back to customers. He uses simple ingredients and less sugar than Americans use in baking to bring out the natural flavors of those ingredients.
His goal is to make his customers content with his simple, yet indulgent pastries and desserts. A variety of drinks are available to complement the pastries, including different kinds of coffee, tea, lemonade, and soda.
In addition to the drinks, there is a wide range of food such as various croissants, pastries, bread, sandwiches, salad, quiche, French macarons, cake, tarts, and dessert bars. Their most exquisite specialties are their flavorful croissants.
The atmosphere is home-like and cozy with the smell of fresh brewing coffee to wake you up. It truly gives you a sense of being in an authentic French patisserie.
I had a wonderful latte to compliment the sweetness of the apple, raspberry, brie, almond croissant that was just out of this world. The croissant had a great balance between a crispy and soft texture that just melted in your mouth. As I ate it, I closed my eyes and, I kid you not, I felt like I was in a Paris cafe.
Although the prices are slightly more expensive than other bakeries, the unique treats are definitely worth it due to the unique French style that you can't get anywhere else in the area.
If you are looking for a warm French patisserie with sweet treats to satisfy your taste buds, then I definitely recommend this magnificent patisserie, located at 159 North Eton Street in Birmingham. Treat your family or friends to a nice cup of coffee or tea and a pastry or cake. No one will be disappointed.
Leave a Comment
About the Contributor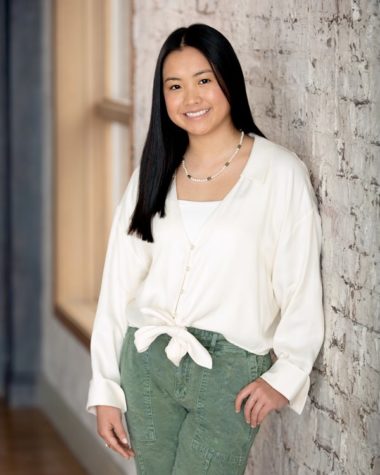 Sonya Barlow, Photography Manager
Hi, my name is Sonya Barlow and I am the Photography Manager for The Hawkeye. I am in my senior year and this is my third year on staff. Outside of the...