Historic Clubhouse Burns: Follow-up
100-year old Oakland Hills Clubhouse cannot be salvaged after fire
On Thursday, February 17, 2022, Oakland Hills Country Club's clubhouse was engulfed by billowing smoke and flames resulting in a "total loss" of the nearly 100-year-old clubhouse. No injuries were reported at the time of the fire. The fire additionally resulted in a major loss of golf memorabilia.
Firefighters were seen extinguishing the fire for several hours, first trying to extinguish the fire to prevent loss of the building but then resorting to preventing the spread of the fire to nearby buildings. One particular concern was preventing the fire from spreading to a building containing member golf clubs.
Although several of the artifacts were lost, some were recovered by firefighters. "They were able to get to locations they could get to quickly, pull that memorabilia out and hand it to the club members at the front door and go back in," said fire chief John LeRoy.
The official cause of the fire is still unknown at this time. However, officials have recently taken in a propane tank, heater, and torch as evidence as to the cause of the fire. A sprinkler system installed in the ceiling of the firehouse with the purposes of preventing a fire did not operate as planned.
Oakland Hills, the famed host of 6 US Opens and 3 PGA Championships, has been located on Maple Road since 1918. The club most recently hosted a major championship in 2008, the PGA Championship won by Irish golfer Padraig Harrington. OHCC was also scheduled to host the US Women's Open in 2031 and 2042.
The club has two courses — the North course, north of Maple, and the South course, south of Maple. A suspended bridge across Maple Rd connects the two courses. Both courses were designed by Donald Ross, a celebrated golf course designer.
In recent years, the club has invested large sums of money into attracting a major championship to come to Bloomfield Hills. In a renovation from the summer of 2019 to 2021, the club made several changes such as improving the greens and slightly reworking some hole designs. The club had hoped that these changes could encourage the United States Golf Association to schedule future major championships at OHCC.
The club plans to rebuild a replica of the original clubhouse which will take "a couple of seasons" to construct.  But for now, the only remnants of the historic clubhouse stands a shell of its former self.
Leave a Comment
About the Contributor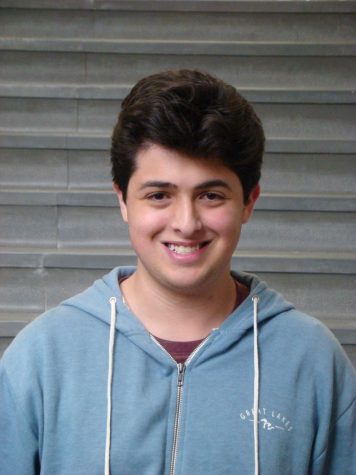 Hayden Buckfire, Managing Editor
Hi, my name is Hayden Buckfire and I am a Managing Editor for The Hawkeye. I am in my senior year and this is my third year on staff. Outside of the Hawkeye,...