April showers bring clean rooms
Tips to freshen up your spring cleaning
Every year, as soon as the temperature hits 50º, it seems like there's something in the air that makes everyone want to deep clean every crevice of their home. 
   Maybe it's the extra hour of sunlight or slightly warmer temperatures that make everyone want to swap out their snow boots for sandals. Whatever the reason, there's no better time to clean out your closet than now. Have no fear, for here are some of my personally tested tips for the best, most effective spring cleaning routine!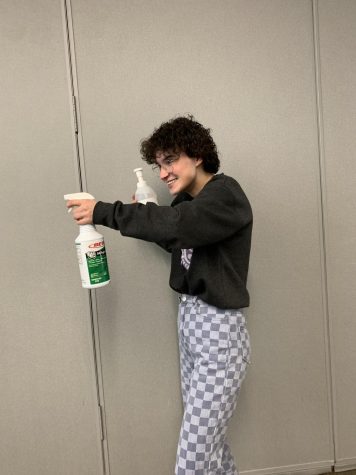 Start off by setting aside a certain amount of time to clean a room. I like to set aside a few hours to fully clean my room and make sure everything scattered on the counters has a place to go. Making sure you have sufficient time ensures that you will complete your cleaning project and won't come back to a half-done project.
  If that's not feasible, start small and tackle one part of a room at a time. Sometimes it can get too overwhelming to see your whole bookshelf lying on your floor. In reality, I find that what most deters people about cleaning is that they get too ambitious. When they start cleaning, expecting to get through a whole house in one day, they get burnt out very early in the process.
   To curb burnout, I like to turn on a good playlist or an interesting podcast, such as The Office Ladies, Teenage Therapy, or TED Talks Daily. When I listen to a podcast, I like to clean for the entirety of the podcast and then take a break for a few minutes, restarting a new episode or playlist after. 
   To go along with cleaning in increments, I typically like to start with something small such as my desk: First clearing everything off, then making piles such as keep, donate, or a "maybe" pile. 
   The pile system helps when I go to donate my things. I love donating my things and allowing them to have another life, and I love finding new things. I have found that donating locally is more sustainable than donating to a big chain such as The Salvation Army or Goodwill. Local places such as the National Council of Jewish Women Resale Store or Potomac Rescue Mission Thrift Store can help support the local community and allow for a quick trip to donate your things. However, if you want to make a bit of money off some of your higher-end goods, there are consignment stores—such as Sum Girls Boutique, Closet NV, and Refined Resale—which offer some of the profit back if the item is sold. 
   Of course, make sure that you make the spring cleaning fun and worth your time. After you are done with your task for the day, relax, watch your favorite show, and enjoy your freshly cleaned space. 
Leave a Comment